For those that don't know, "ZBV" is short for "Zur Besonderen Verwendung", which is German for "For Special Use". Hopefully the car will warrant this moniker in the near future.
Right then, it's probably about time I got round to doing this. Not a huge amount to put here yet, and on my current wage there won't be massively rapid progress, but I have big/insane plans…
Current Modifications:
Genuine R32 Brushed Aluminium Radio Cage trim and interior door handles.
Brushed Aluminium rings on defroster vents and headlight combi-switch.
Mk.I Audi TT Pedals.
W8 Interior Light.
Illuminated Vents.
Premium quality black super velour floor carpets with silver edging.
"Bora" and "TDi" badges removed.
Murdered OEM Xenons retrofitted along with Headlight washer and Auto-levelling systems.
Smoked Rear clusters.
Swapped side indicators for smoked variants.
Montreal II alloys (replacing original Le Castellat alloys), powdercoated satin black w/ body colour coded wheel bolt covers.
Lowered on KW V1 Coilovers- Currently about 60mm out back/35-40mm up front.
Replaced stock antenna with 2009 Polo Aerial.
Interior retrim to black.
PD150 Rad pack and FMIC conversion, now with Darkside Developments S3 FMIC.
Darkside Developments 57mm hardpipe kit (replacing previous Allard Motorsports kit), EGR delete, and oil catch can.
R32 DSG Airbox/snorkel mod, with gutted R32 MAF and Darkside Developments accordion pipe replacement.
Rear valance swapped for 4Mo valance, and colour coded.
Turbo-back non-res Milltek exhaust system, with decat.
TurboDynamics MD376 Hybrid Turbo, with a map to suit.
Darkside Developments SMF conversion, and Sachs uprated clutch, with modified OEM clutch bleed block (internal restrictor removed).
Bora .:R bodykit with Oettinger spoiler, LCR splitter, and Bora .:R foglights.
Planned Modifications:
Peloquin Limited Slip Differential (possibly).
Rota Grid Drifts, in 18x8.5, with spacers to fit flush.
Bigger brakes, likely LCR calipers.
Thanks List (so far):
<a>@old_n07</a>. [Technical]
<a>@Imagewerx</a>. [Technical]
<a>@Bazmcc</a>. [Technical]
<a>@graeme86</a>. [Technical/Clarification]
<a>@[member="simonsneyd"]</a>. [Technical]
<a>@Tom_GTI_T</a>. [Photoshopping]
<a>@olethalb</a>. [Inspiration/Technical]
<a>@timbomfg</a>. [Technical/General/Noob Herding].
<a>@Gavin</a> NI. [Technical/Clarification].
WARNING: First two posts have LOTS OF BLURB!
So, passed my driving test at the end of last summer and promptly started looking for a car. Had to be a diesel, as in the near future I will have a reasonable trek to and from work every day (hopefully), and it had to be a saloon too. As the Germans make the best diesel saloons, it was going to be a VAG motor- though more likely to be a VW or Skoda than an Audi because of the insurance companies.
Couldn't bring myself to look at Skodas (stigma, anyone?), so that meant VW. Unless I was going to be going for older motors, Passats were out the window. I wanted something less than 10 years old, and most insurers would flay me for even a 5y/o Passat. Golfs and Boras/Jettas being fairly bombproof settled me on the Bora as car of choice.
Decision then came down to power. I wanted a 130 or a 150, and after some discussion with some Chocolate Camshaft owners (and finding that most of the 150's within my price and distance range were utterly ragged) and other forum members, I settled on finding myself a PD130 Bora, in either Black Magic Pearl or some form of Electric Blue-type colour. Preference was, of course, always going to be for BMP.
After some searching, and more than a couple of disappointments, I found this: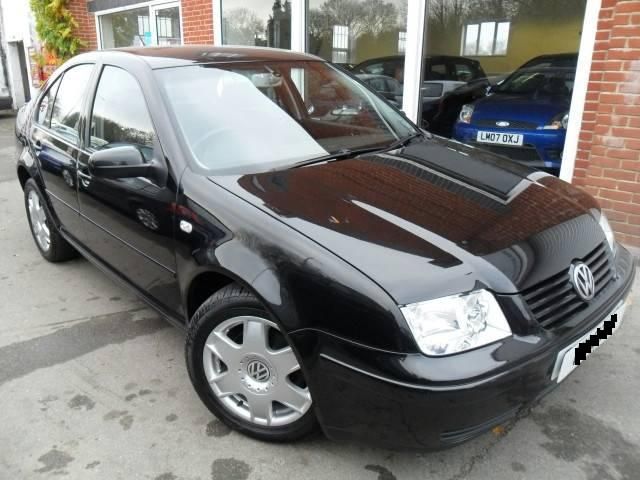 A lovely little 6-speed 53-plate 130 SE with only 77k on the clock, at a [reasonably] close garage. Not a high-end spec'd model, but it had enough toys to keep me happy for the time being: Air Con (manual), cruise control, Sony headunit w/ Aux input & USB (though sadly not entirely iPod friendly), and Multi-Function Steering wheel and Sport/Anni-type cluster to boot (courtesy of the having CC system fitted apparently).
Obviously, being a second hand car it had a few detracting factors: previous owner had blagged the warning triangle, spare wheel tool kit, and medi-pack when he'd dropped it off at the garage/dealer, offside passenger speaker cover had a curiously child foot-sized whole in it, wheel trim covers in the back of the cabin were scratched to buggery, drivers armrest lid was damaged (one barrel is broken- still), and it needed the cambelt doing. Luckily, the previous owner had bought a cambelt kit shortly before deciding to sell up, and had left this in the boot- more about this later on.
After a test drive I decided to buy the car there and then. Hashed out a deal, agreed terms and paid deposit, I was to return a week later to settle the bill and pick the car up.
Having only passed my test and done PassPlus a matter of weeks earlier (six, actually) and not driven since or alone at all, and now owning a car that had more than double the power of what I passed in (a 60hp, 5-speed Fiesta sh*tbox), I was a little apprehensive about bringing the car back solo, as the journey included fun and games on the M25. So my BMW-driving gitbag of a brother came along to ride shotgun and provide support/navigation/snippy comments- lovely. Got the car home with little issue (apart from one venting of black crap from the exhaust which scared the bejesus out of me), I got down to planning the mods.
But somewhere, my own personal daemon wasn't quite finished screwing with me, oh no… You see, that vented black crap was merely a sign of things to come. Let the engine problems begin!
Within three days it was obvious there was an issue at the front: A LOT of black smoke pouring from the back when driving (even normally), and an inability to reach 50 in fourth gear. "No problem", says I, "The car is under warranty, we'll just take it back to the garage and THEY can sort the issue." So one Saturday morning:
I got the car back a week later. The pipe from turbo to intercooler had blown off, apparently, so not as huge an issue as it looked. However, what was slightly worrying was the fact that the mech who did the work [same guy who did the cambelt change- we'll hear from him again later] said to the head guy at the garage [quite a likable chap, actually] "Those pipes had to come off to make the cambelt change easier, and they can be a right bugger to get back on properly."
….
Excuse me, but if "they can be a right bugger to get back on properly" why the chuff didn't you bloody double check them!? Fool.
Anyway… With the car now back in my hands and working properly (for the time being) I got done to the first few mods. But, like a cancer can go undiagnosed for years, there was another problem silently developing deep within the engine bay…
First job was to replace the damaged parts in the back: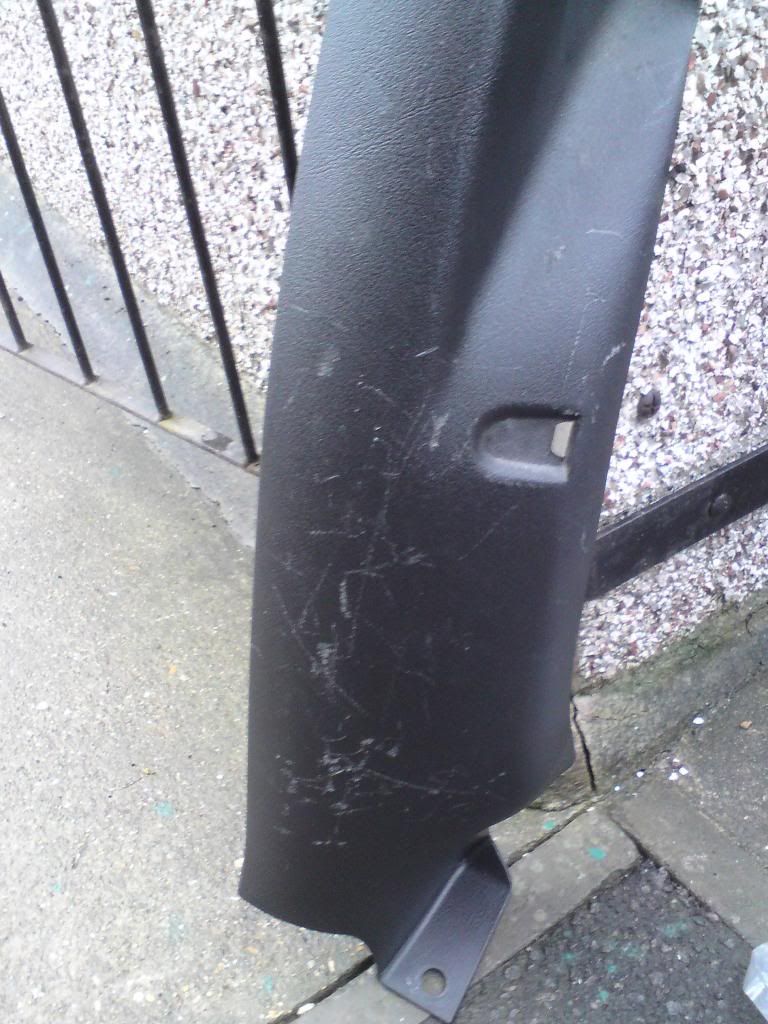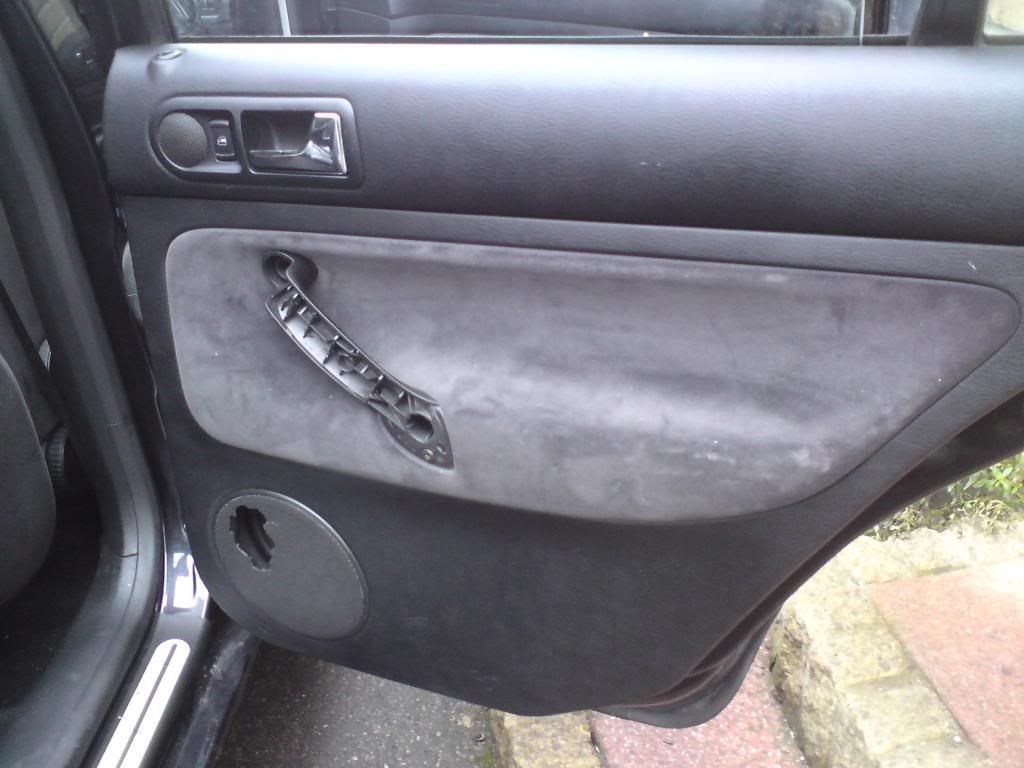 A quick trip to the Stealers solved these- though at £50 for just the lid of the armrest, that repair can bloody wait!
First actual mod was the genuine R32 Alu trim swap. I had Net Optic trim originally, and though it looked reasonable, it wasn't quite my cup of tea. eBay provided the R32 trim in the form of a 3dr R32 Climatronic Trim kit (with handles), a 5dr R32 door handle set, and a new black plastic Climatic control panel trim piece. Halfords provided some Aluminium effect paint to spray the black plastic trim piece- came out surprisingly well actually, despite me cocking it up.
That Climatic panel doesn't look that bad actually does it? Perhaps a newer/older piece of alu..? Most people can't tell its plastic unless I tell them or they're like, 2 inches from it. Not bad for a bit of a bodge job methinks. Net Optic bits and the spare R32 handles were sold in short order on ebay- I've no idea about the N-O bits, but @
GtiJack
on here got the R32 handles.
Christmas rolled round and provided me with: mk1 Audi TT Pedal set, aluminium rings for the defroster vents, and an aluminium ring for the light combi-switch. Ties the dash trim into the door handles/trim quite nicely I think, though I'm not entirely convinced that the light switch ring ISN'T a little too much. Opinions?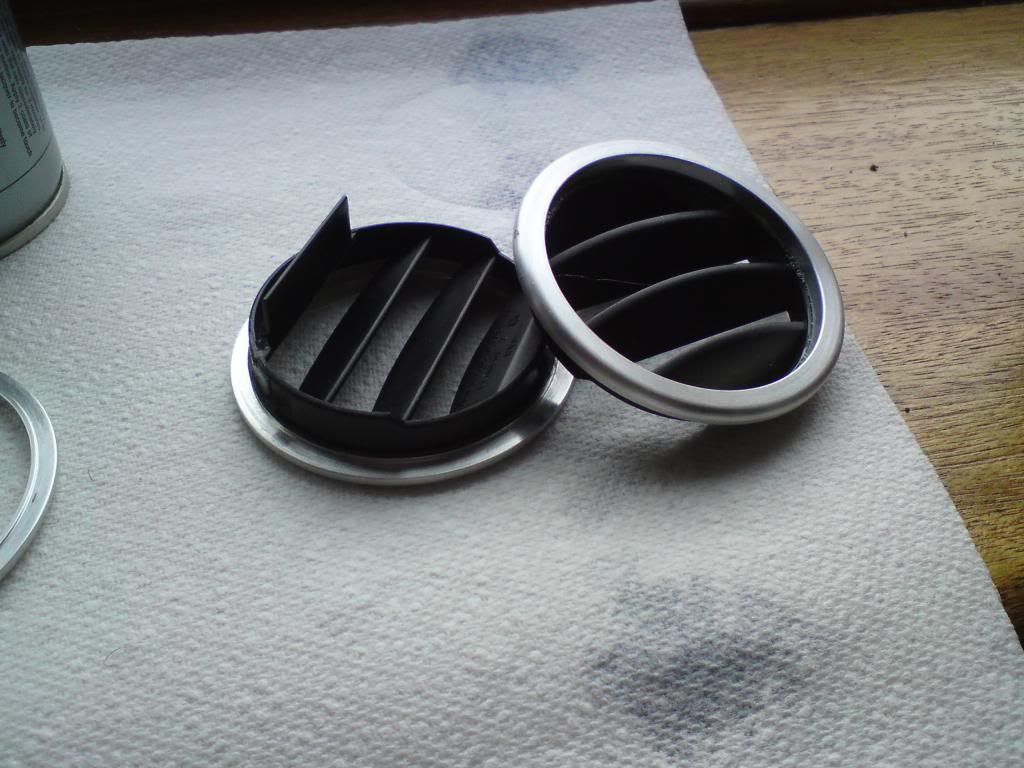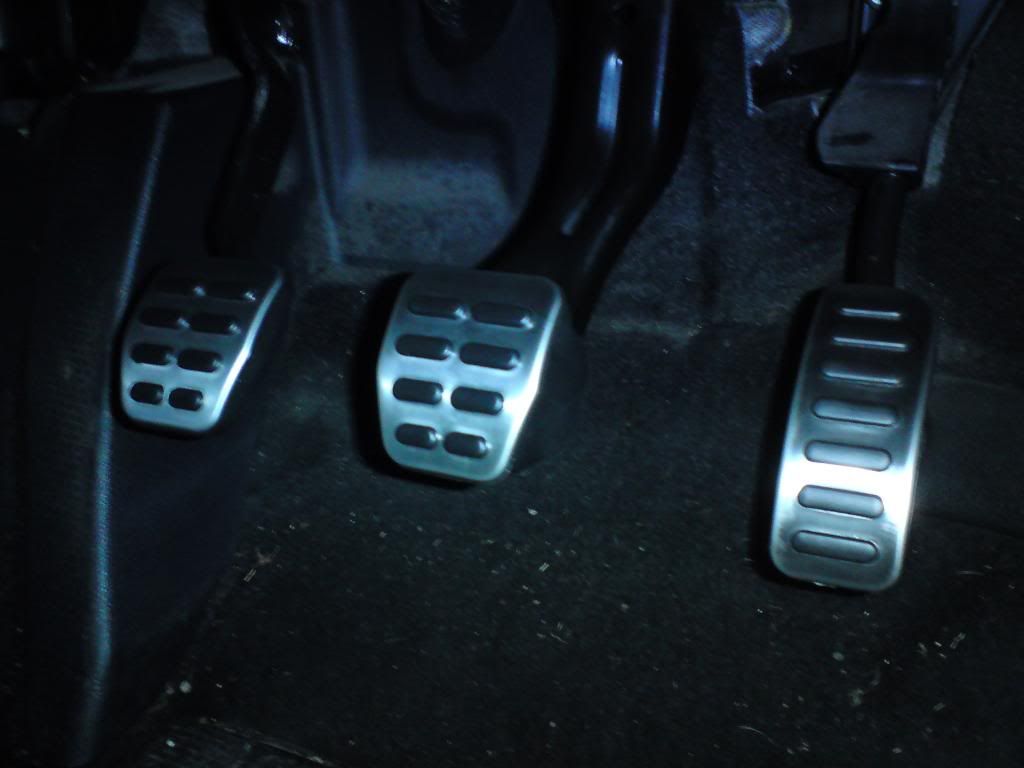 Next up was new carpets. Yet another thing that the previous owner had blagged on his way out, the car didn't have any floor carpets, not even the driver's side, until I bought some shiny ones from Awesome GTi. Old style [Read: Superior] twist fits.
Now then… Remember the slightly dodgy mechanic and the "cancer" from earlier..? The next major thing for me and the Bora was this matter coming to a head…