If you are like me and would like a couple of the 'toys' that you didn't get when the car was new, have no fear - there are oodles of opportunities at car breakers and my favourite: www.eBay.de
One such project is the fitting of the internal rear view auto-dimming mirror.
I purchased mine from eBay, and received the mirror and a bracket - all for about £20.
The 'usual' arrangement of the mirror is as a combined 'extra' along with the rain sensor for auto-wipers.
This feature, however, is a difficult and expensive retrofit as it entails a special replacement windscreen.
OK, so the mirror in the car as 'standard' has a different type of fixing arrangement to the 'electronic' mirror.
This pic shows the two examples - Std on right in this case.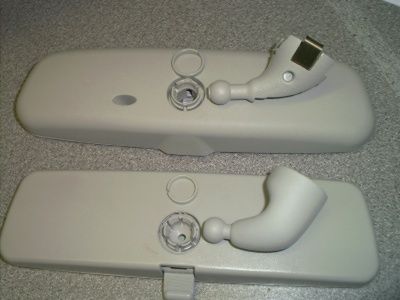 The 'std' mirror mount is removed from the screen 'fixing' by grasping firmly and rotating 90 degrees.
Studying the electronic mirror, you will find a 6-pin socket located inside a recess on the mounting bracket.
After investigation (thanks to Jimmy: Golf_v5) it turns out that only three wires are used:
Pin 1: White = +12v
Pin 2: Brown = -12v
Pin 3: Grey = Reversing light switch +12v
The big deal is how to get the wires from the 'car' to the mirror.
In the 'factory' setup, the rain sensor and the mirror bracket are fitted with a 2-piece plastic shroud and a conduit comes down from the roof headlining to this assembly.
I resigned myself to having to ditch the electronic mirror's bracket as it simply wouldn't fit the std screen mounting.
After laying both assemblies out, it can be seen that the two mirror brackets are similar in shape, size and have the same size ball fixing.
OK, so how can the wiring get through this solid aluminium casting??
Simple - by drilling a hole!!!
Coming at it from the ball end, i used a pilot drill and then a 5mm drill to get a 4cm long hole from there into the hollow internals of the bracket.
I then came at it from the inside to make a hole facing upwards, in order to 'ease' the wiring channel angle.
You can see from the blue light shining through, just where the hole is.
I had to run the hole off to the left of centre, as the casting internals has a 'web' bang in the way.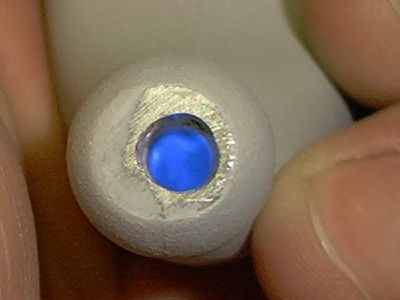 The next step is to use a light grey plastic tube to act as the conduit as in the original install.
Another hole will be required in the mirror bracket, to allow the conduit to fit in.
MORE TO COME...............