Discussion Starter
·
#1
·
Bought these today, after waiting about a million years for stock to come into the country.
First I have to say, they're an absolute work of art. There's a functional beauty to them, and they feel like they'll last even longer than the time it takes to get your hands on them.
I've got VW's plastic links on my car, but fitted them with Powerflex bushes after three years. This in itself was a messy job and the Powerflex bushes "mushroomed" out quite severely after I torqued the bolts - they just don't look like they fit properly (though the bush inner and outer diameters are correct), which can often be the case of retro-fit parts.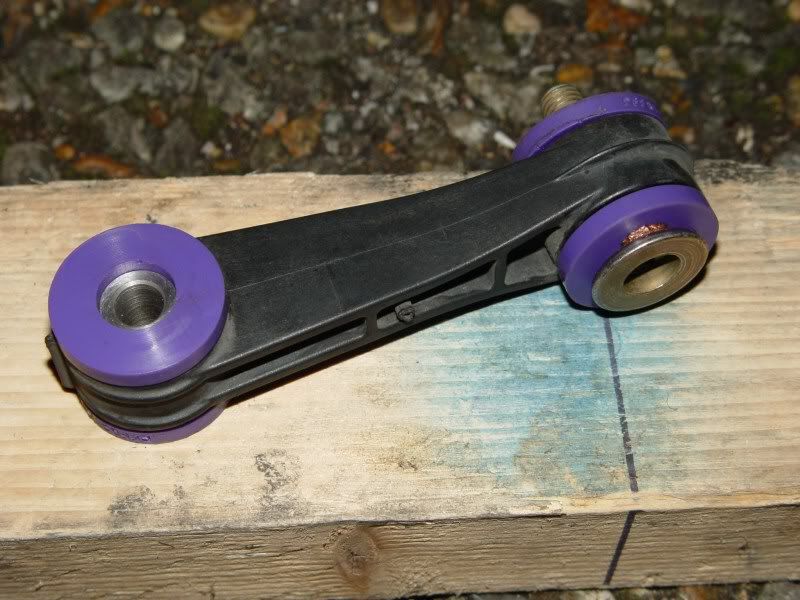 The VF Engineering links come pre-fitted with one-piece polyurethane bushes (versus two-piece Powerflex items which are made so for ease of fitting by hand).
They also just come in a plain box with no instructions whatsoever, contact details or even fitting hardware - you'll have to visit your VW parts supplier for the nuts and bolts.
Strangely, the bushes at both ends have a metal sleeve inside, which is fine if you're threading a normal bolt through, but VW doesn't use a normal bolt for connecting the link to the ARB. The end that connects to the ARB (just looking at the link, it's not entirely obvious which way up it should go, and it's not quite identical at both ends) needs the sleeve pushed out, and then you can use the VW special bolt (shown in first picture, part numbers at the end) to connect it to the ARB. I recommend buying new bolts (together with the nuts) and use the old bolt to push or hammer the sleeve out, you can see the way the bolt suddenly becomes thicker halfway is ideal for locating into the metal sleeve, allowing you to use it to push the sleeve out.
You'll also need replacement bolts for attaching the lower end of the link into the wishbone.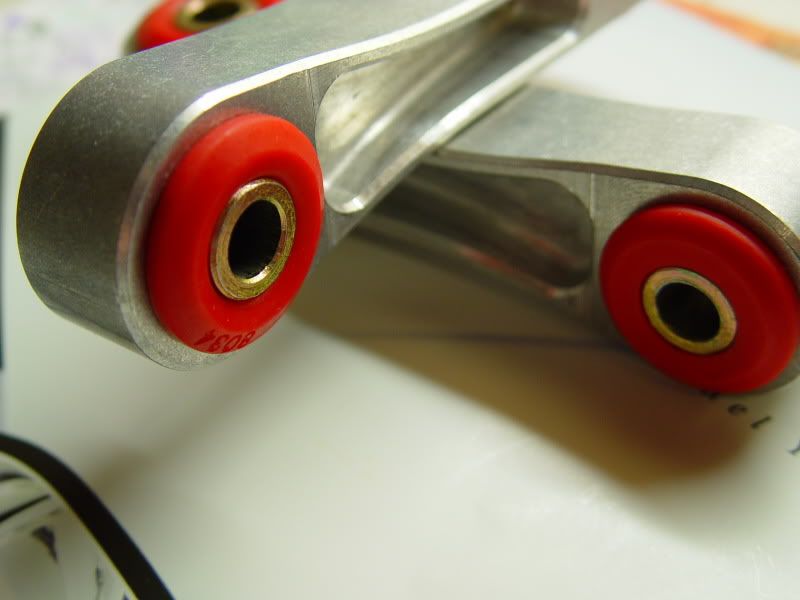 These links are only suitable for 2WD vehicles and are direct replacements for the OEM part. If I don't get time to fit them before the March London meets (
Krispy Kreme
and
Walton on Thames
) I'll bring them along for anyone who wants a look.
EDIT: Thanks to my friend Matt for the extra pics, I forgot he had taken those [
]
VW part numbers (per side)
1x drop link to ARB bolt: 1J0 411 323 A "PIN"
1x drop link to ARB nut: N 102 613 02 "NUT"
1x drop link to wishbone bolt: N 104 176 01 "SCREW"