Discussion Starter
·
#1
·
Basically my drivers side engine mount bolts failed on me the other week and now thats sorted it seems as though the passenger side gearbox mount has alot of play in it.
Im not putting alot of pressure on it and im only a small guy using one had to move the engine so do you think it needs replacing? Every now and then on hard acceleration and deceleration i get a heavy knock from the passenger side and im betting on this mount if you guys think its shot. Take a look at the vid and tell me what you think. Not best vid in the world but you can see how easily it is moved.
Thanks for watching.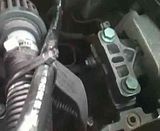 Peter