Hi guys.
Well, everybody else seems to have a build thread of somesort, so im starting one too. I'm not doing anything too fancy as me and my g/f are saving for a house, but i've got a few mod's planned. I've had a few cars before, and am a bit of a Volvo nut deep-down (the next car would have been a V70R Estate, but we had to downsize because of the savings).
Couple of my old cars:
My old Volvo 440 2.0i
My old 480 Turbo
Our Mk2 Clio (now sold for the VW):
Front
and
Rear
.
Anyway, now thats out of the way!
We picked up a Golf Match with 62k on the clock on a 2003. We held out for a Match as it had the trip-computer, Air-con, rear headrests etc. It took a while, but we got one in the end. We could have had a GTi, but my g/f is under 25 with 6 points, so insurance was tricky. So we opted for the 1.4 and decided I could spend a little cash on it [Y]
First of all it needed a major service. New belts, aux belt etc. Anyway, the first day we got it home: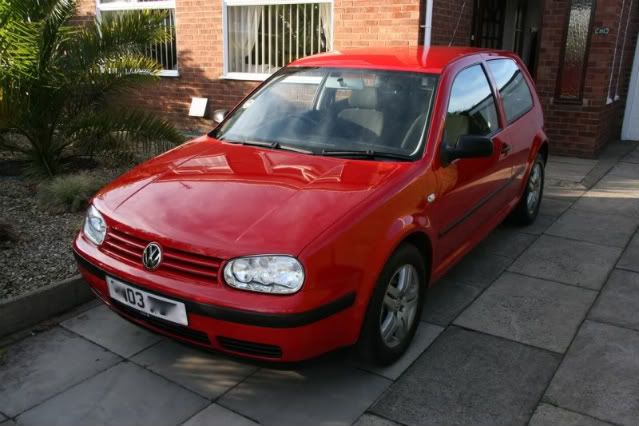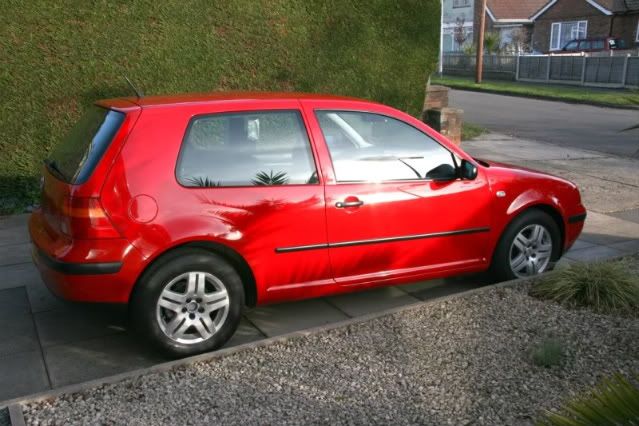 As with any new car though, it came with a bunch of previous owner problems. The bootlight didn't work, and with further investigation, it turned out the wiper motor was knackered, which in-turn fried the boot latch microswitch. So, I repaired the wiper motor and replaced the bootlatch, so that now works. I took the time to replace the rear wiper with the Mk5 one too. I also decided to de-badge the boot-well, just the letters. It had been put on slightly on the p*ss, so a good excuse to get it off.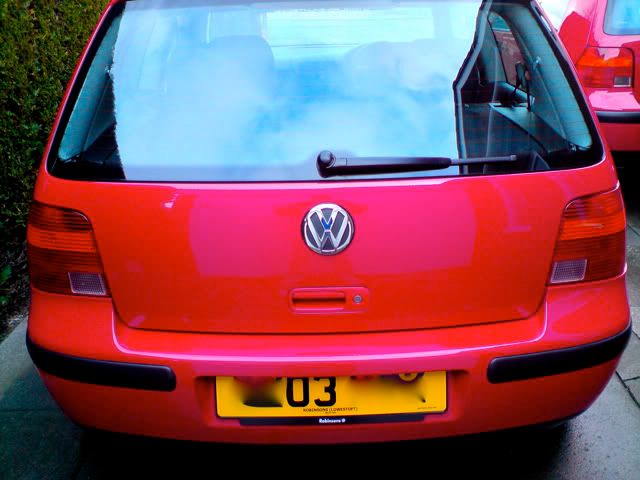 As the wing-mirrors aren't body coloured, I'm getting them done. This evening, I popped all the front and rear bumper trims off along with the wing mirror cases and sent them to my Uncles bodyshop for painting. I'm not having the door strips done just yet as I'm not sure whether i'm going to buy new ones (as mine are scraped) and do them myself, or get the bodyshop to do them.
At some point, the wheels have been handsprayed, and badly at that. So a refurb is on the cards, unless I can get a good clean kerb-less set of Monty II's for the price of the refurb (about £180). The wheels would be bigger, but purse-strings are tightened 'cos of the whole house deposit thing... I could have a big set, but nothing else! They don't look too bad in the photo, but a couple of them are flaking really badly now: obviously a rushed job-especially as I had to remove loads of over-spray from one of the wings, and the tyres and callipers also got a healthy dose of it too [
]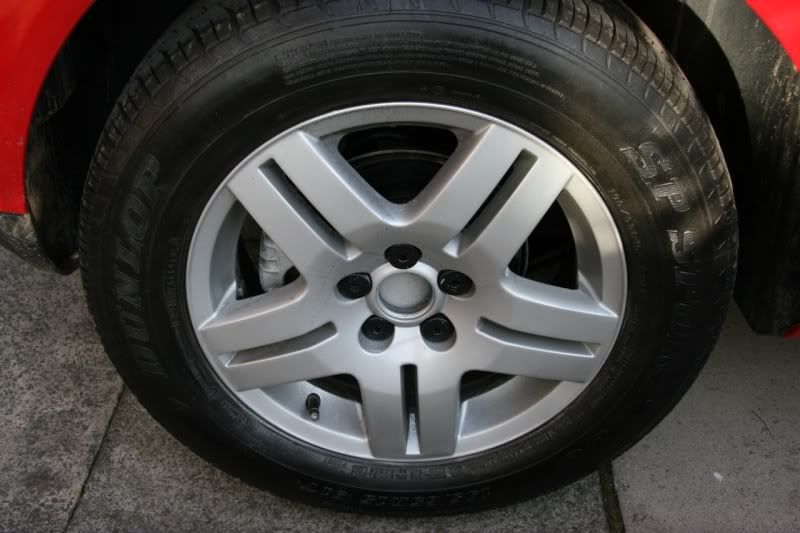 I've replaced interior trims, door grabs, centre console, gear gaitor etc. Added front and rear cup-holders, cut the ariel down to stubby and got a new set of mats from VW for £21! I've spent about £300 not inc. the £379 service putting things right, but now they're done I can start doing other little bits.
I've been a member of Detailing World for a good few years now, and although not a big poster, I do spend lot of time cleaning: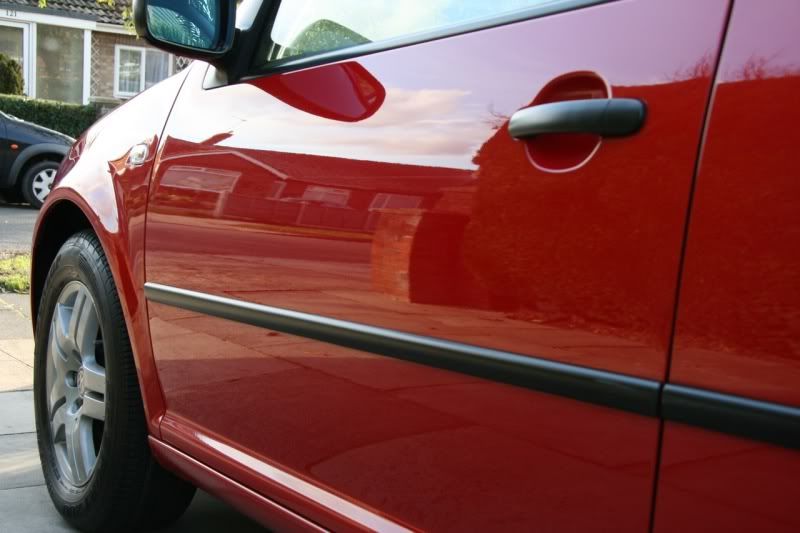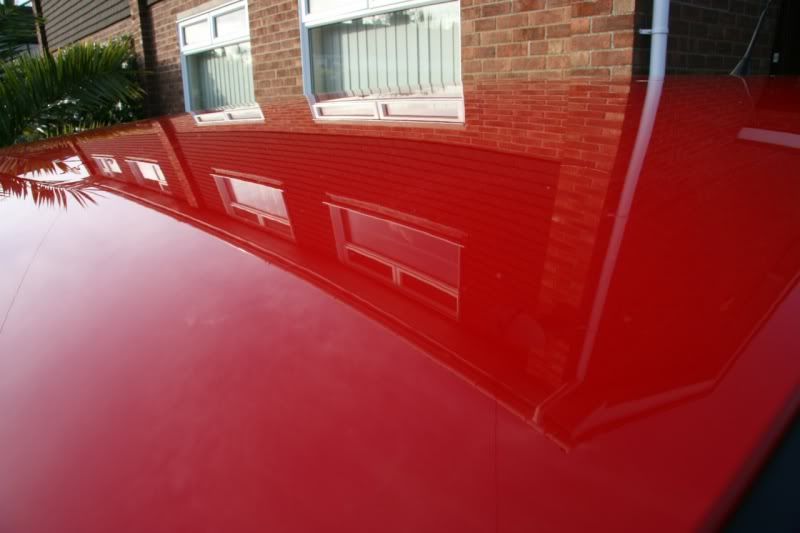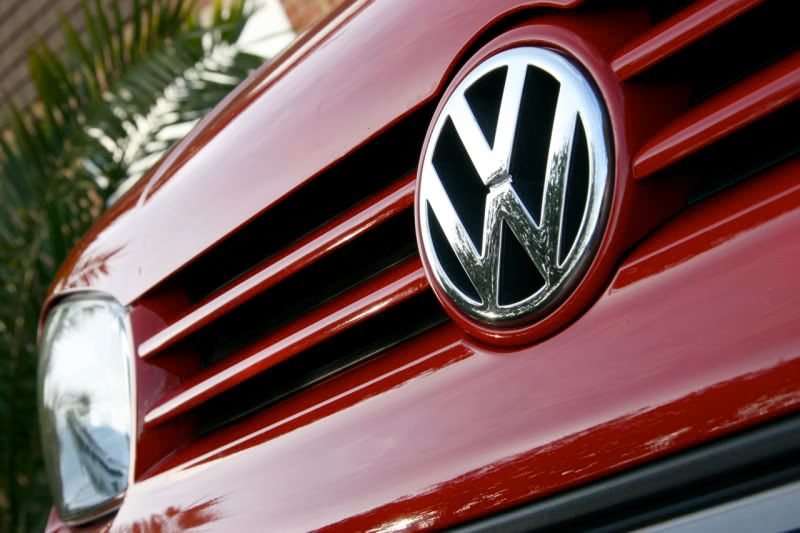 Plans for the car are as follows:
Euro spec rear lights
Door/Bumper strips/Wing mirrors colour-coded
Wheel refurb/replacement
Lowering (just springs, can't afford coilies!), about 40mm (EDIT: JOM Coilovers, approx 50mm)
Anniversary Front or 4Mo front valance
4Mo parking sensor rear valance
Additions to 'to do' list...
Install (CD player, front mid's & tweets, sub & amp)
Black/Grey sports interior
Front armrest (with fabric retrimmed in something eye catching!)
GTi steering wheel (maybe)
Monty II spare (maybe).
And that'll be it! I like simple and subtle, and this is the best I can do with the financial constraints imposed [
D]
The car has been mis-treated, and the lacquer is quite scratched, so in the spring i'm going to the local pro-valeters to see if they can give the car a good machine polish to get some of it out. Then i'll ask about the windows as they're really scratched too. The screen is going to be an insurance job in the next couple of months, but the other windows i'm not sure about...
Anyway, that's the car for now-hopefully i'll be posting again in a few days with my new colour-coded bumper strips on!
Dan