Discussion Starter
·
#1
·
I been after more power from my car for a while now, and after researching all the available kits out there, I kept coming back to the same conclusion. The only one that will fit a RHD car is a kit using the Jabba manifold.
I considered either a GT28rs or the IHI mated to the manifold, and concluded that the GT28rs was too big for the engine, and would push the power band too high in the rev range to be very useful, unless I could get the car to rev reliably to 8000rpm.
This left me with the IHI, and the thought of buying a bolt on kit rather than separate manifold, turbo, downpipe, tip, and oil/water lines had the prospect of being much simpler.
So off I trotted to Jabba to pick up a kit. Took the kit home and did a test assembly on my bench at home and discovered a few minor issues. Some of the banjos supplied in the kit either had the wrong threads on them, or bottomed out in the holes in the turbo.
Luckily I got one of the machinists at work to modify them for me. I told Jabba of the problems which they assure me they have now rectified.
I took the car and the kit up to JBS on the Monday morning, expecting to be without the car for 2-3 days. I spoke to JBS every day over the next week, and was kept up to date on how the fitting was (or should I say wasn?t) going.
It turns out that this is not a simple bolt on kit. The turbo and manifold went on and off the car 5 times to try and fathom a way of fitting the various oil and water lines. Eventually it was discovered that the only way to achieve it (unless you are Houdini) is to split the turbo in the middle, with it mounted on the manifold. It turned out that it was a good job JBS did split the turbo, as it had some nice big lumps of polystyrene packaging in the turbine blades.
Anyway, the kit eventually went on thanks to the determination of Kev and James. I went up to fetch the car the following Monday. I arrived mid afternoon, to see James fabricating the downpipe. Cast iron down pipe adapter welded to stainless steel down pipe. This is not the prettiest of solutions, but there wasn?t really a lot of choice given the parts supplied. JBS are currently having a full stainless steel down pipe made for me to replace the cast turbo outlet, which should be much neater.
For a tip, we had to modify the standard golf item, by sleeving it just before the turbo. I have been waiting for Jabba to finish there silicon TIP for a couple of months now, and it?s always 2 weeks away. If it ever gets finished, I will probably replace the one that JBS improvised for me.
For fueling, I was using a tt/s3 maf housing, and the injectors fitted during my E05 conversion.
Once the kit was on, it was down to Daventry to see Revo Kev. Mitchel had very kindly written a guesstimate program for the kit, and Kev uploaded it for me on the Tuesday morning. We then did an hour or so of road testing, and logging.
The car was smooth, and very tractable. If this was guess number one, then the finished program is going to be special. The cars now running V3 which is still a guess based on my vagcom logs from the car.
At the JBS rr day yesterday it made 331hp and 305lbft. You?ll see from the graph that it is extremely smooth, with no spikes. To say that I am impressed is an understatement, bearing in mind this is a guess for software. I have to conclude that Mitch really knows what he is doing.
I?ve done 4000 miles in the car since the turbo went on, and I?ve not had a single issue. It?s averaged 26mpg, and it?s nicer to drive than it ever was on a k03 or e05. It?s much more progressive, and is a lot less aggressive to drive. It will however upset anything this side of a 911 turbo. (non turbo 911?s are easy)
For anyone else who is considering doing this I?d say go for it. But be warned that the install is a major pain. It is anything but a simple bolt on. JBS are happy to fit the kit (for the right money), and if mine is anything to go by, it will be a very neat, professional install when it?s finished. If you?re sick of waiting for Jabba, then go for it. I would talk to James first though to see which bits to buy, as quite a few bits from the production kit are still in the box, and quite a few more will be replaced soon. If I did it again, I?d just buy the manifold, and source the other bits myself or have JBS source them.
I?ve been told that Revo will be offering maps for this kit, and also GT28rs kits in the near future through JBS.
I have to extend my thanks to JBS for how professionally they approached the whole thing, and to Revo for providing some cracking software. Jabba can take credit for a well engineered manifold, and picking a suitable Turbo for the engine.
Bit of a ramble I know, but I just wanted to share my experience to allow others to avoid some pitfalls.
Now for the pictures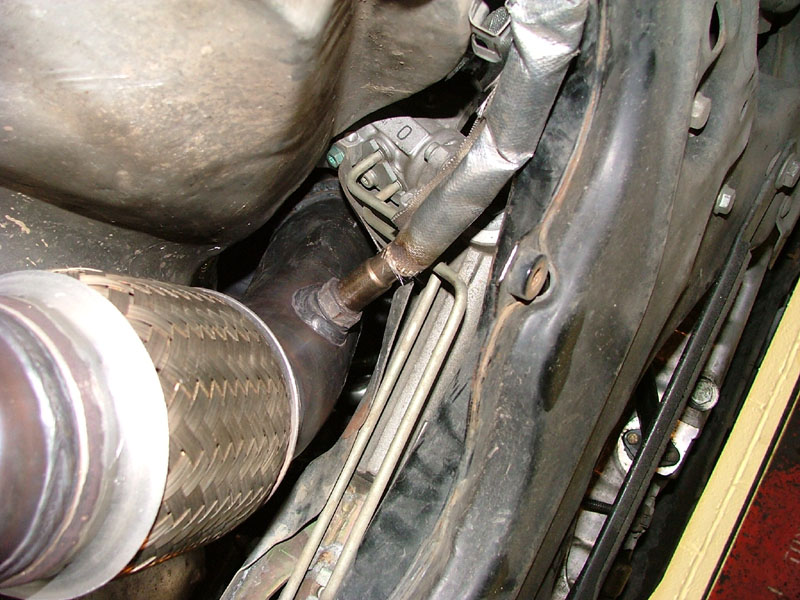 Downpipe close to steering rack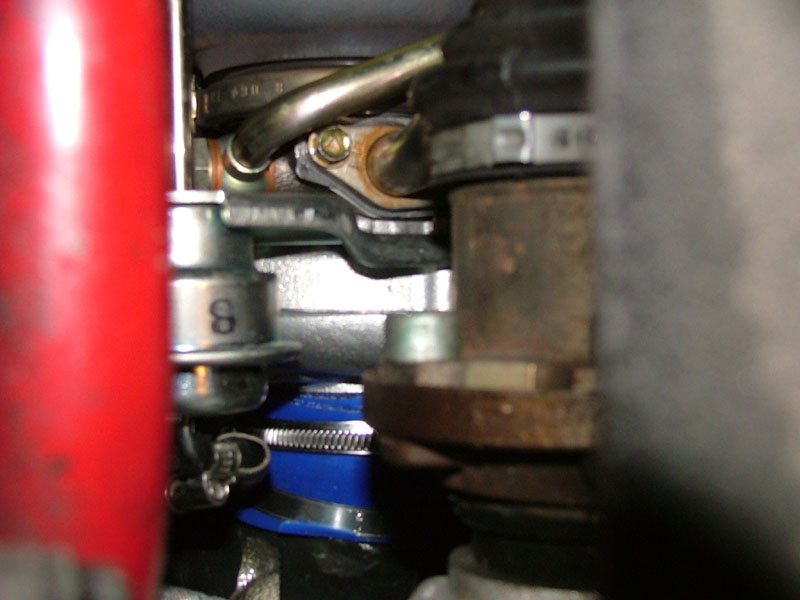 Turbo inlet
Downpipe close to steering rack and driveshaft.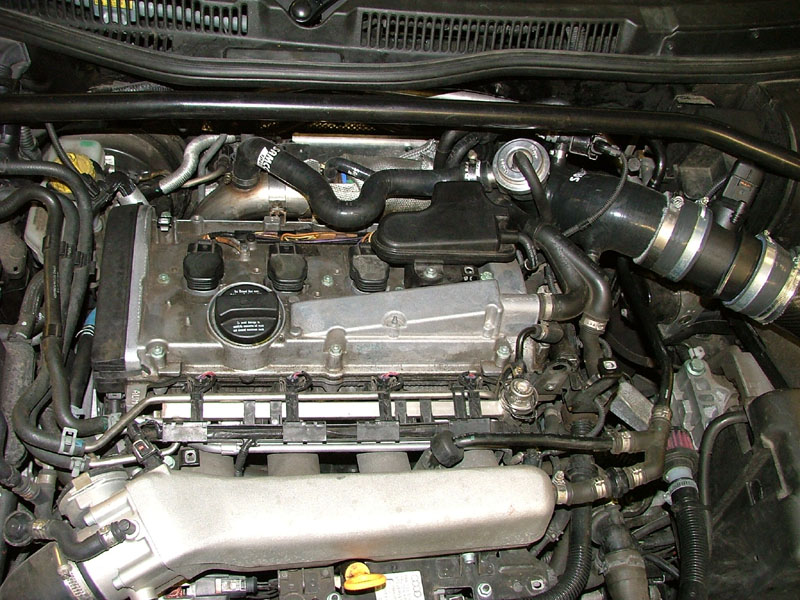 Looks pretty standard up here doesn't it.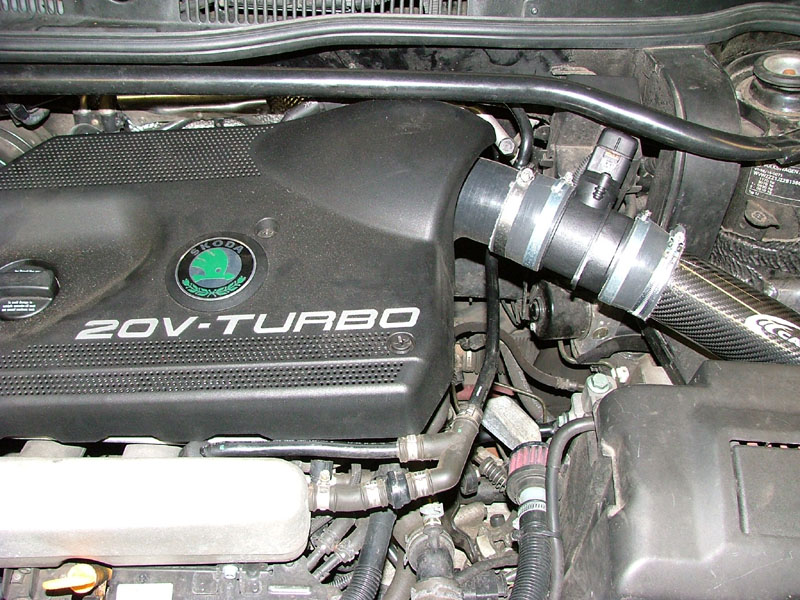 One for the skoda boys
The gratuitous money shot