Discussion Starter
·
#1
·
I sold my 1.4 last month, and in its place I now have a 3dr Satin Silver 1.8 20V GTi.
Below is a photo of my old 1.4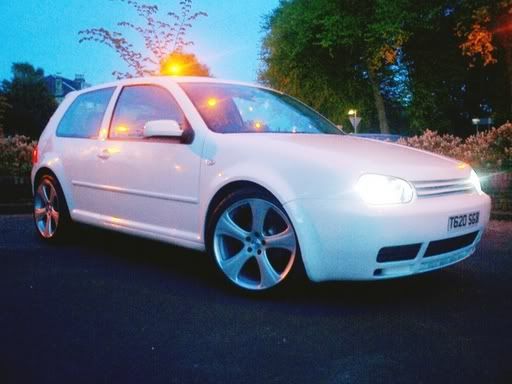 Luckily the GTi has a few extras that the 1.4 didn't have such as electric sunroof and centre armrest, but I have also taken several mods over from the 1.4 to the GTi, such as...
Black/Grey Recaros
R-Line Carpet Mats
Audi TT Pedals
Bora Dash Vents
Euro Spec Rear Lights
Aero Wipers
PIAA LED Sidelights
PIAA Xenon Main Bulbs
I have already started on some new mods, including full aluminium interior trim, R-Line gear knob, Sharan Rear Badge, DVD headunit, and the R32 Wheels.
Next on my list is the suspension... I would love coilovers but cant afford to pay out that much on suspension, so I am going to go for a decent spring/shock upgrade instead. Has anyone got the Koni RSK kit? I am looking at spending up to ?250 for a kit...any advice for the suspension is appreciated.
Once the car is lowered, that'll be it for now...well maybe i'll keep my eyes open for an R32 Steering wheel. I plan on looking into the anniversary kit next year... i'm hoping to achieve the US 20th Anni look...something different.
The photos are not great, and the car is in need of a good clean, but all comments are welcome.