Discussion Starter
·
#1
·
Well Iv been on here for a while now and not put any photos up so I had the camera in my hand after taking some photos for ebay so I thought Id fire a few of the dirty old girl.
Now Im not one for the show car look as you can see, you wont catch me washing the wheels every night or camping out by the car just incase a bird sh*ts on it. The other half uses it daily and has to travel some nasty country lanes so as a result its impossible to keep it clean but she does get regular washes and waxing come the better weather.
Well she was bog standard when I got her so I wasted no time putting on the facelift front end and a mate of mine kindly hooked me up with some Hella Dynabeam Xenons. They turn with you into the corners and self level which is a bonus, just got to get around to sorting out the headlight washers. As you can see they have a tendency to drop out when you least want them too!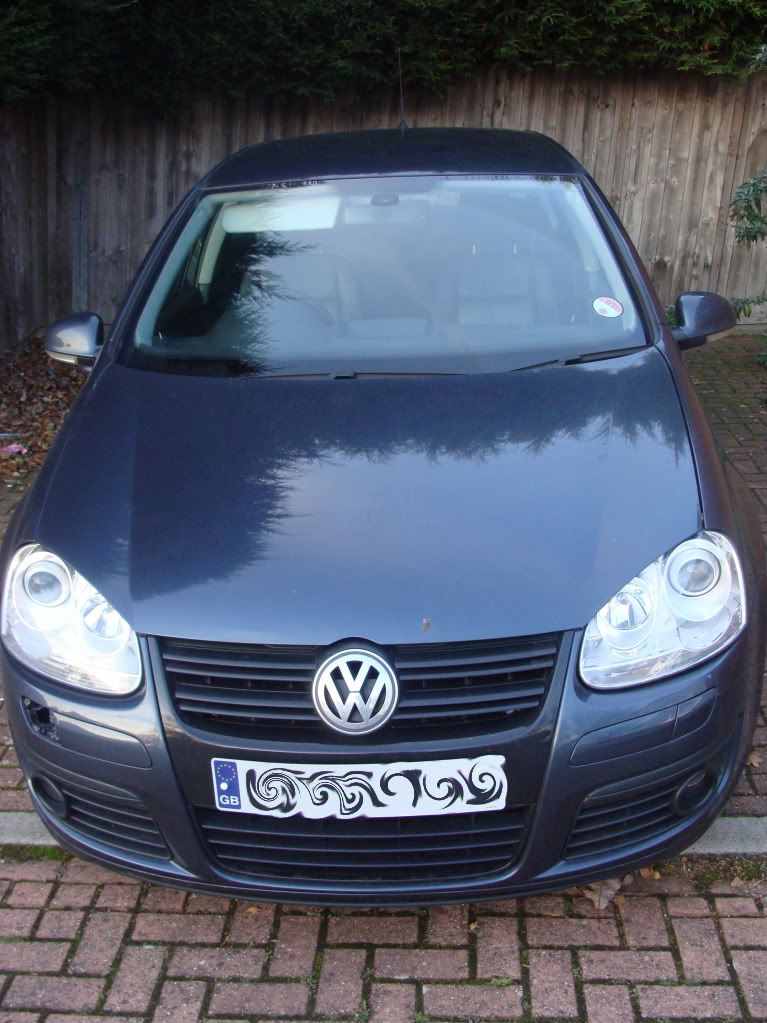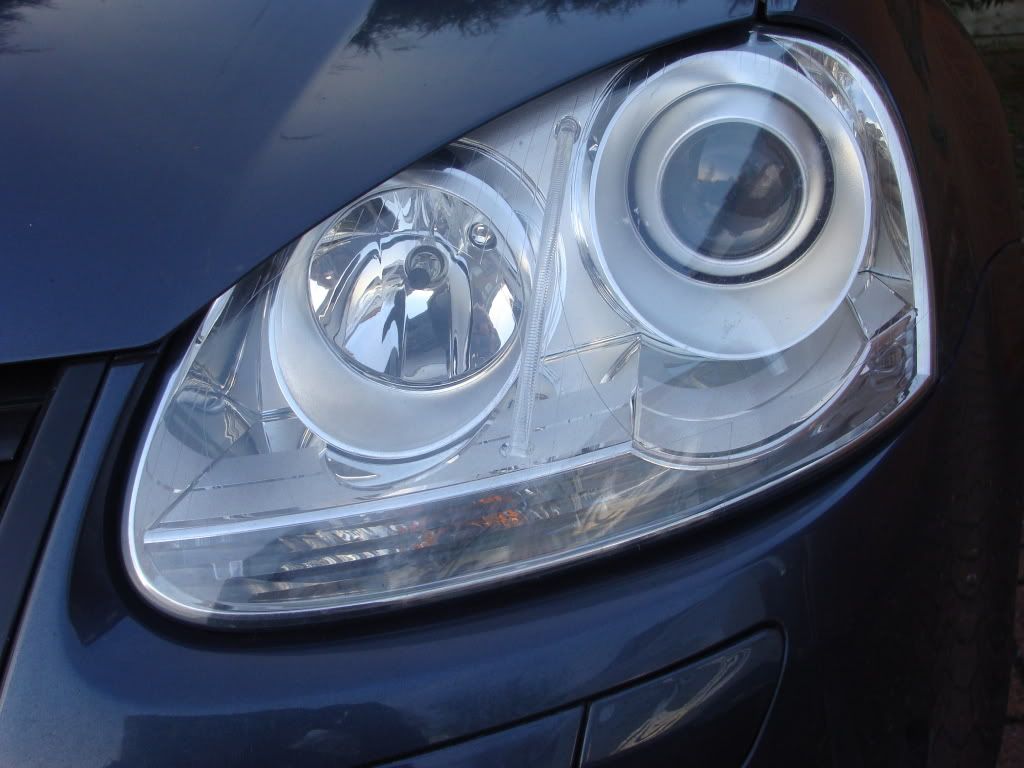 Shortly after that I got myself a set of 18" omanyts, now these went off for a refurb and wont be going back on until the weather gets better along witha set of H+R springs, so it was back on with the standard 16's. I came across a GT leather interior so I got that in next with the help of a kufactec wiring loom and new climate panel with the heated switches.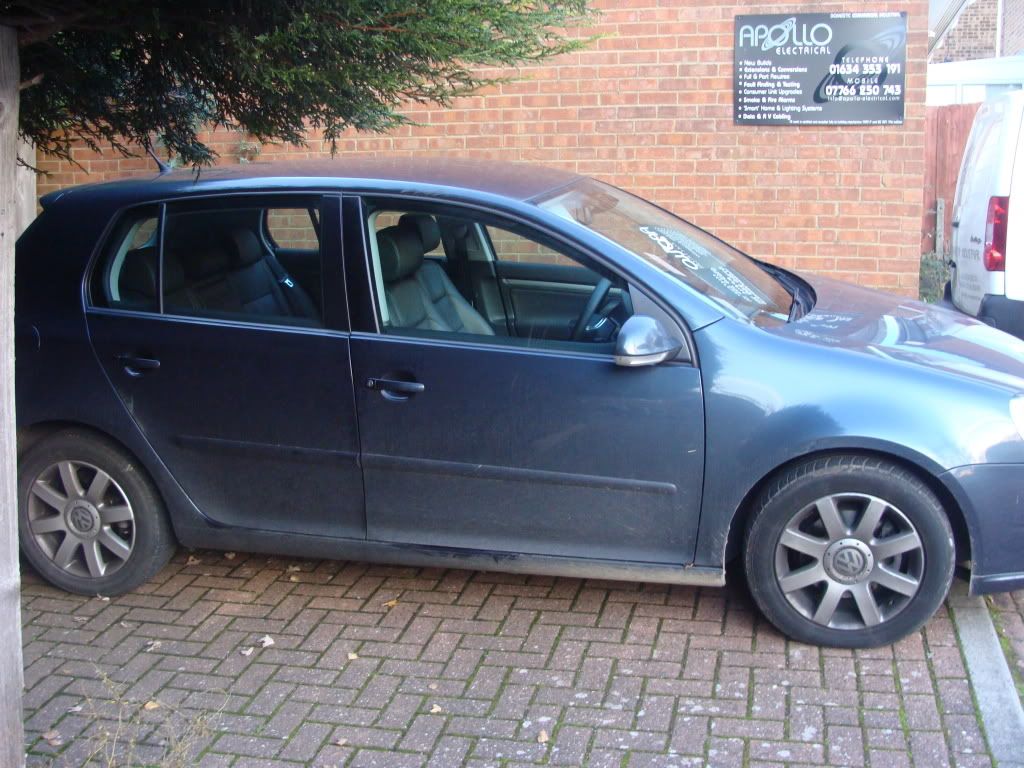 I have a ed30 rear box and GTI rear valance to go on but I think Ill wait until spring to sort those out unless I find myself at a loose end one weekend. So I cracked on with the interior mods and after alot of looking finally fitted the highline cluster and mk6 MFSW.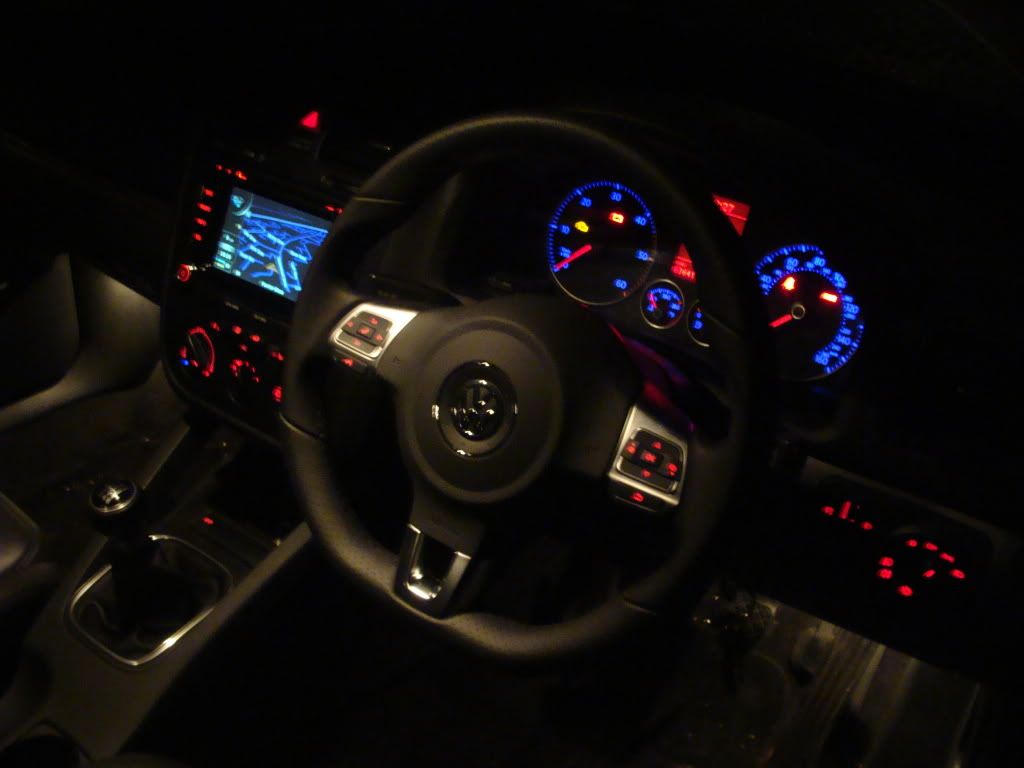 Now I did have white dials like the mk6 but the missus did'nt like it so I had to go back to the blue.
As you can see from the photo I have a RNS copy that I got of a mate for a bargain. Its been brilliant, has all the things youd need including bluetooth and streaming music from your iphone ect.
But I want to keep it fully intergrated so the LED RNS is on its way along with fiscon bluetooth. I also fitted the OEM LED tailights but at the moment Im waiting to receive them back after being fitted out for skyline operation and will post pictures and details when I get them. I'll put some better (cleaner!) photos on in due course.
Right a little and cleaner update.
Firstly I got myself a set of OEM LED tailights but with a twist. I had the usually LEDless (is that a word?) inner parts modded to accept new red LED rings to perform stop/tail and fog functions.
Fitted to the car.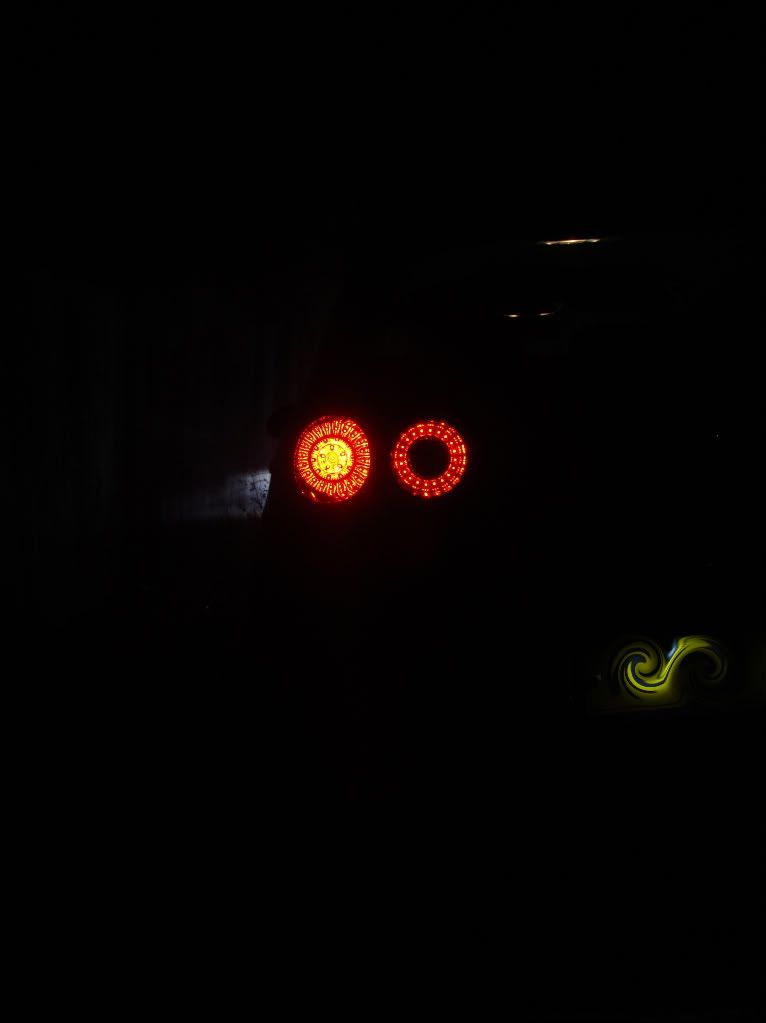 I was really after the true skyline look but wanted to stay legal and pass M.O.T with no problems. I set about fiddling with VCDS and this is what I came up with.
http://i1129.photobucket.com/albums/m520/apoll013/DSC01277.jpg
Iv since had the car M.O.T'd and it passed with no problems at all.
Next the aftermarket stereo/nav/bluetooth was replaced with a RNS 510 C version, AF Can Gateway, OEM Sharkfin and Skoda 729B bluetooth. After changing to the RNS I though that was the perfect excuse to get my modded highline display back in the car. I also fitted a 30 byte CECM so now have cornering fog lights and hazards under heavy braking.
I think the white display looks much better with the white/red/black on the RNS.
http://i1129.photobucket.com/albums/m520/apoll013/DSC01383.jpg
Next up came sorting out the ride height. I had previously had Omanyts on the car but after removing them for a refurb and putting the standard 16's back on
I would'nt let them go back on without lowering it a little.
Mrs Apollo uses the car most of the time so slamming it on coilovers was'nt an option! I got myself some H+R springs and lined up my mate to help me fit them. It turned out he had a set of sportlines going spare so I sent the H+R's back (put £150 back in my pocket!) and fitted the sportlines along with the refurbed wheels on new Vredestein rubber and 10mm spacers on the rear.
http://i1129.photobucket.com/albums/m520/apoll013/DSC01382.jpg
http://i1129.photobucket.com/albums/m520/apoll013/DSC01381.jpg
http://i1129.photobucket.com/albums/m520/apoll013/DSC01380.jpg
http://i1129.photobucket.com/albums/m520/apoll013/DSC01360.jpg
I have an ED30 rear box to go on next along with colour coded GTI rear valance and side skirts which I think will really finish the car off nicely and make the car look a little bit lower.
Comments welcome
The postmans just been and I now have a shiny new knob ..........R32 gear knob to be exact!