Discussion Starter
·
#1
·
One word....WOW!!!!
Had the car at Jabba on Friday for a custom re-map and all i can say is WOW! If anyone is thinking about getting it done, stop thinking and just do it! It is by far the best money i have spent on the car!! It was defiantly worth the 2hrs 40min drive at 6am!
Anyway, the day was absolutely spot on, all members of staff were more than friendly and helpful, the area which you wait in is like a bachelor pad, nice big leather sofas, widescreen tv, x-box 360, loads of dvds to watch, loads of car mags to read, coffee machine and a spot on cafe across the road![Y]
Whilst i was waiting the guy who was doing the re-map came into the waiting area and said "who's is the black 1.8T with the 19" wheels?" and i said "umm...thats mine, why whats wrong?[:|]" and he just said "what have you done to it?? its getting 160 bhp standard?!" [
] and i just said its completely standard, other than a Carbonio, just been very well looked after, fuel cleaner every month, only ever use V-Power, new MAF, temp sensor and throttle body clean all prior to the re-map, he just fair play to you its obviously been looked after!
Any way it took around 3hrs in total (which absolutely flew by!) Then it was ready, they guy came out, handed me my dyno report and said even we're pretty surprised with this one as we've managed to get it upto 241 bhp! [:O] I was gob smacked to say the least! Final results were;
Standard run: 160.8 bhp
New Figures:
241.5 bhp
326.0 Nm of torque (240ft lb's)
213.3 bhp at the wheels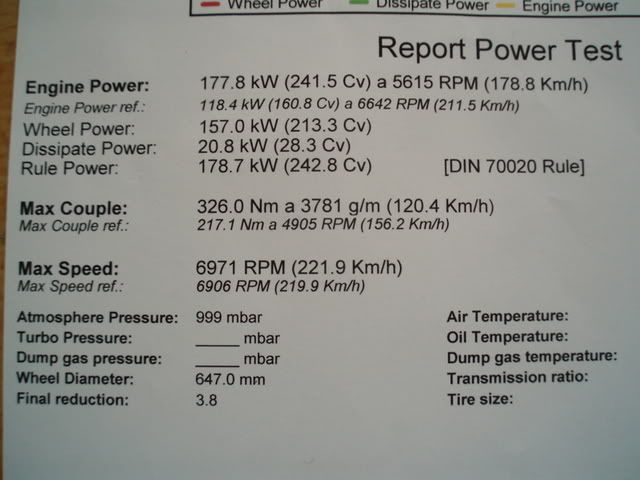 Absolutely couldn't be happier! and i can not recommend Jabba enough!
(Sorry for the essay everyone, just got a bit excited!)[
]