Discussion Starter
·
#1
·
Hi all
Thought I'd finally do some posting and show the work I did on my new rear lights.
Basically I was fed up of the normal lights so wanted to go all red. I spent ages looking for different ways of doing it but ended up just tinting the whole thing with red spray and putting new amber LED's to replace the bulb.
I used 20 Cree amber Superflux LED's in each indicator, 5 sets of 4 in series.
Bought from here:
CPC
Major credit and big thanks to sleeky, he helped me with everything and originally got the idea from his thread:
http://uk-mkivs.net/forums/p/392215/2681089.aspx#2681089
Just soldered the LED's to plain stripboard with chrome vinyl on the reverse side. (Excuse the messy soldering, this is my first time near a soldering iron)
And covered the back in glue and heatstrunk the wires to try and waterproof them.
Then I took a razor blade to the writing on the lens and sanded it all down.
Then three coats of red tint spray and a coat of clear coat.
Dont have any pictures but basically widened the hole in the back of the light, glued to LED's right up against the lens and soldered the wires to the circuit board of the lights.
All installed (Excuse the dirty bum and chipped paint, the result of the weather and reversing into my wheelie bins [:$][
])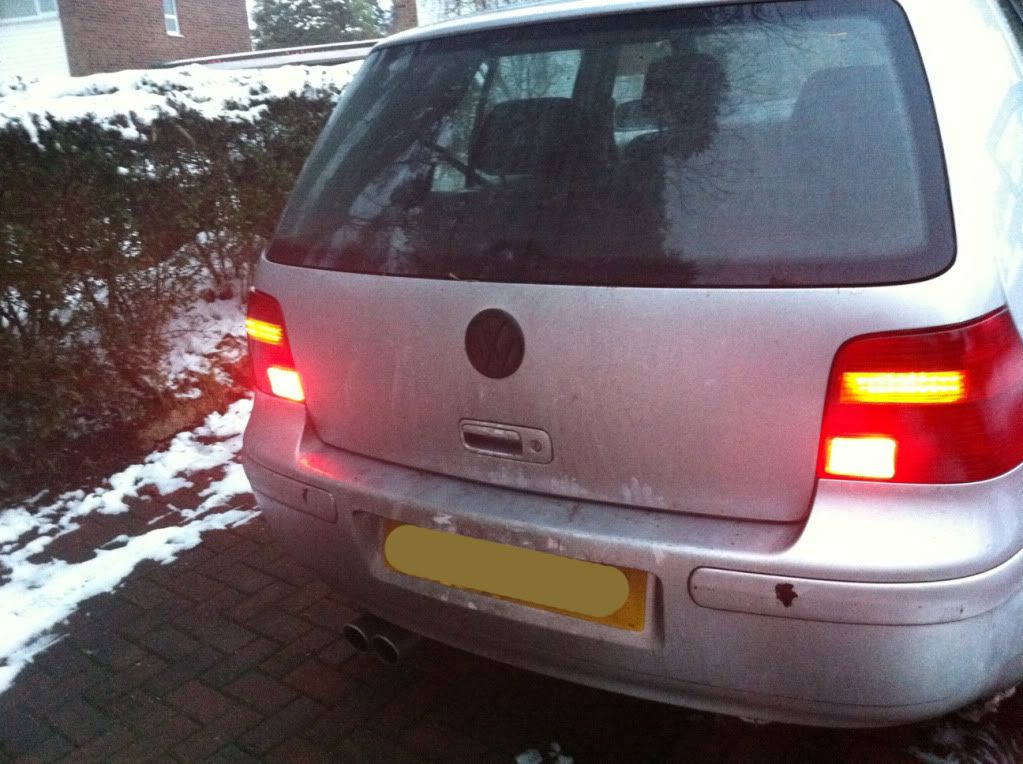 As you can see the indicators are bright amber. Only problem is my pink reversing lights, but I'm currently making a similar circuit with white superflux LED's, will upload pictures when thats done.
Once installed though I realised that I had adjusted the resistance of the circuit, so my indicators were flashing like crazy. To temporarily solve this I simply put an amber bulb back in, bringing it back to normal. This also made the light go all round the side of the lens like the originals do, and its not that red.
So basically will add more pics once I've doubled the amount of LED's in each indicator, so the go around the sides too and once I get my white reversing lights[
]