Discussion Starter
·
#1
·
Hi, I am a mk 5 owner in Japan.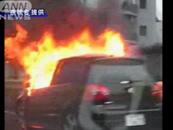 Mk 5 GTI was spontaneously burned in the traffic jam on the capital highway on 29 July in <?xml:namespace prefix = st1 ns = "urn:schemas-microsoft-com
ffice:smarttags" /><st1:City w:st="on"><st1
lace w:st="on">Tokyo, Japan</st1
lace></st1:City>. The owner said that smoke rose from a gap between dash board and front window of his GTI, and then fire wrapped his car in few minutes.
Fortunately, he escaped from his GTI after he stopped his car before the cabin was enveloped in the flame.
He had bought the black-colored new GTI before 3 month of the accident. After then, he did not replace any parts except for exhaust tail pipe. He also said that he never have a smoke in his car.
In Japan, the news was broadcasted on TV.
Every Japanese mk 5 owner deeply concerned about the accident.
What was caused in his GTI's engine room?