Hi guys.
Just a basic 'How To'. I've had my Golf nearly 2 months, and in that time all i've done is put right broken things right, and this is one of them. Basically, my trip computer should have shown this when the key was in the ignition and the boot opened:
But it didn't. So after a bit of research, I found out that a dodgy wiper motor had been leaking into the latch on the bootlid frying the microswitch, which in turn was stopping the bootlight come on and the non display of the above message...
So, I called VW and found out what the part number and price was to repair this. You will however, have to disconnect/remove/fix your rear wiper motor before you do this reapir otherwise you'll end up needing to do this again. I repaired mine, but some may want to remove etc.
So, for this 'How To', you will need:
The boot latch, part no: 1J6 827 505 CB 41. Price (exc. VAT) is £24.46.
A Phillips screw driver, an mate Spline bit (like a Torx, but more edges), possibly a smaller flat bladed screwdriver and maybe some WD40.
Possibly this little plug, part no: 1J0 973 115. Price (exc. VAT) is £1.24. However, you can buy this part with about 1" of wiring coming out of it (not sure on part no) so you can splice the wires to the original loom, which is about £2-I would recommend that as it can be very fiddly.
1)
Open the bootlid, and inside the grab handles are a single phillips screw, one each side. Remove.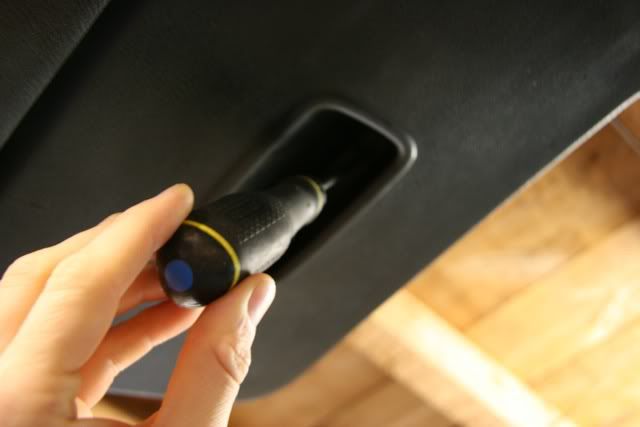 2)
Prise the trim off. This can be quite tricky as the tabs holding it in are quite strong, plus remember, plastic can be very SHARP, so watch your fingers.
3)
Once the panel is removed, you will see the mechanism inside:
Underneath the mechanism are the two pieces that need to be disconnected. One is the small metal arm that pulls the latch open/shut (right side), the other is the electrical connector (left side).
4)
The metal arm needs to be removed before you undo any bolts. It's not too tricky. Just hook your finger around it and pull it out of the small white plastic pin that it's going through. Be careful not to bend it as it may require a little bit of force. Don't worry if the white plastic tab breaks as there is a new one on the new latch.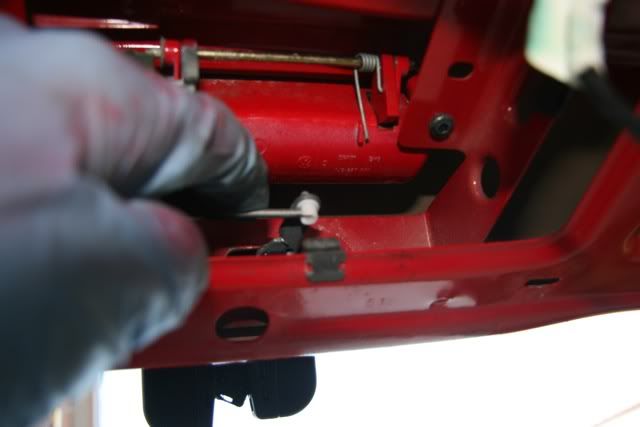 5)
Now you can unclip the wiring loom from the tabs holding the wire in place:
6)
Now use your mate bit to remove the latch from the bootlid: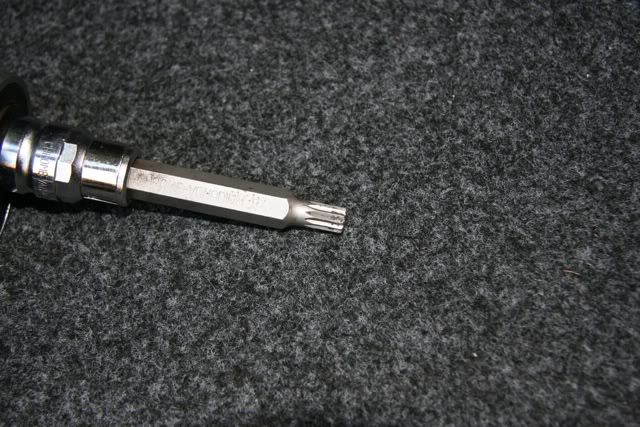 7)
Now that the two bolts are out, you can pull the latch out and pull some of the wiring through. You will now be able to see the small connector going into the latch.
8)
This is where it can get tricky. The connector has a small tab on which needs to be levered to pull it out, however, depending on how long the switch has been soaking in screenwash will depend how easy it is/isn't to get out-the tab may be very brittle and could snap off (like mine!).
Don't be tempted to just pull the wiring
. This could yank all the wires out of the connector block, or even snap them. If you can't get it out, just give it a generous helping of WD40 and some wiggling and it should eventually come out (not like mine...[
] -
see
NB at foot of this page
).
9)
Once removed, you can see the difference:
10)
Before reassembly, check that it has worked! Hold the latch and connect the loom: the boot light should come on. If it doesn't, check the bulb is in or not blown. If I remember correctly it should light up without the key being in the ignition. Then, get a friend to hold the latch, ensuring the locking mechanism is flicked open, and jump in the drivers seat. Shut your door and turn the ignition on without starting the car. You should hear a small 'tone' and see this message on the on-board display:
If it does, then you're ready to reassemble. If you don't, check that all the connections are clean. If it's all green (like mine was), then WD40 and a rag will get most of it off. It worked for me so should for you too. If it still doesn't work, then you may have a more deep seated issue that I can't help you with!
11)
Clean up your connector, and start to reassemble in the reverse order, which goes like this:
Connect wire to latch > Bolt latch back to bootlid > Press metal arm back up through new white plastic hole (ensuring it goes through fully using the locating groove) > Put loom back into metal tabs > Replace boot trim > Replace Phillips screws in boot grabs.
And there you have it. I'm not sure if it's the same for cars without the on-board computer, but this is for cars with. I would imagine it's the same just minus the message, but you'd need to find that out first.
One of those satisfying jobs: it should work, so make it work! No point modifying a car if all the little bits aren't done first.
Hopefully it'll help some people. If i've left anything out let me know!
Dan
NB:
I should note that the connector on mine was welded in with limescale, the tab on the block did snap, and so did the wire (no fault of my own, it was just so corroded and very very fragile). I have managed to sort a temporary wiring solution for the time being, but next time i'm at VW, i'll be finding out if the connector (see pic) is available to buy. I'll update this info as/when I have it.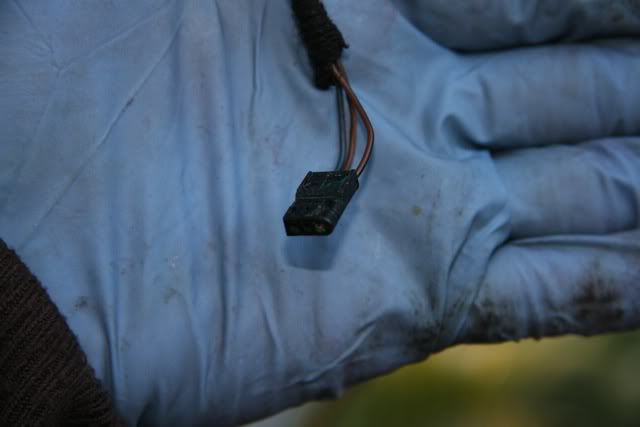 Can be purchased with about 1" of wire, which I would recommend (about £1 more).