Discussion Starter
·
#1
·
I'm here to sell my 150PD. I've got a mk2 GTi and have been enjoying that and not using the diesel much so considering selling.
Here is the car;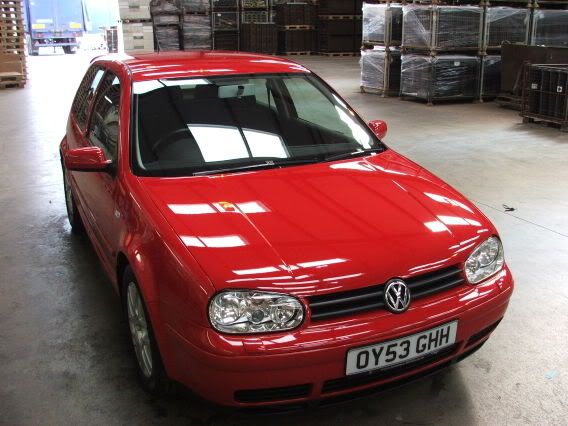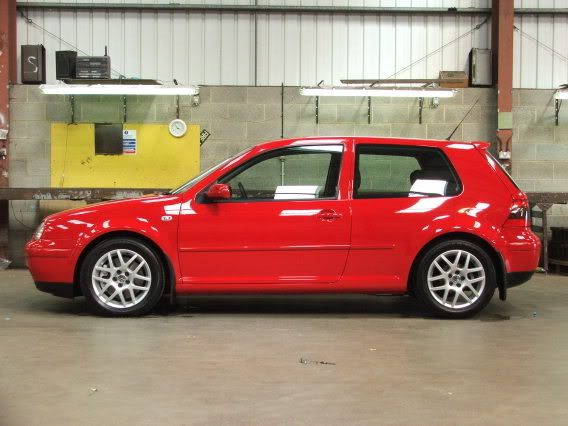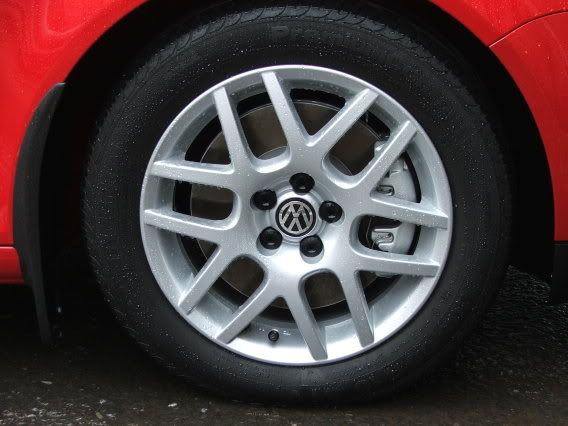 (note; normal red grill included)
43000 miles
First reg 12/12/03
OY53 GHH
Ex Bentley UK car.
Service History:
Longlife service regime carred out at Volkswagen retailers at required mileage (second one just done at 39,000) plus extra lubrication services comprising of Castrol SLX Longlife II and genuine filters at the folowing mileages; 13500, 24566, 30957, 34800.
Retro fitted 312mm brakes on the front at 21280 and rears replaced at 21620 (all genuine parts). Both front and rear discs replaced early summer at 39000 with brand new genuine parts for cosmetic reasons. Old ones had gone rusty!
Retro fitted cruise control by Awesome GTI
Brake fluid change at 33000 (2 years)
Retro fitted genuine parts front armrest.
Retro fitted front headlight washers using new genuine (hella) parts
Eibach Prokit springs and dampers along with Eibach front and rear ARBs fitted at approx 40,000 (fitted by Andy at PSI Tuning)
Powerflex dogbone mount (half of kit fitted to prevent vibration)
Lupo GTi gearknob.
Montreal alloy wheels replaced at 39000 via a warranty claim.
Green cotton filter insert.
Recent new windscreen
Polo rear wiper
Nokia 6280 car kit fitted with dashmount- no nasty holes!
Front panels refinished to remove stonechips by local sprayshop (well regarded company on here and Club GTi)
Immaculate interior and engine bay. Carpet mats quite new.
Recent full polish by "L200 steve" off detailing world.
Folder with £2000+ of invoices and history plus original brochure.
Also!
This car has been featured in Volkswagen driver magazine a number of times since I purchased it in August 2004. Most worthy of these was the car being remaped with the switchable DMS Dualsystem remap and when programmed increases power to 185 bhp. This has been proven on a Rolling Road.
Backed up by the invoices, many parts have been placed to keep the car looking new, I have been vert fastidious regarding its upkeep!
Third best in show the last two uk-mkivs Mega Meets! Sadly no prizes for third place but and indication of its condition.
Sale would include US spec full genuine parts car bra. Hence immaculate front end paintwork.
As a 150 PD its got low miles and hopefully the people who know this car would agree its in first class condition, and I wouldn't be suprised if it could be regarded as one of the best condition 150 PDs in the country. Normally the underside is kept as clean as the interior!
**************************************************************************************************************************************************************************************
EDIT!!
As part of the sale, the car will come with its first MOT from a Volkswagen dealer, and should any issues be apparent they will be repaired under the warranty. Warranty expires and MOT due on 12/12/06
Also I will change the oil prior to sale again with longlife oil and genuine filter; current oil has just done short of 5000 miles so good to change before the winter!
£12000 ono
***************************************************************************************************************************************************************************************