Discussion Starter
·
#1
·
this is it before any of the major mods were done, i got the wheels from wheelbase almost as soon as i got the car, and the picture's a bit dark, but just imagine a factory standard gti and you'll have the
idea
"
this is after most of the work had been done, OEM R32 kit (VWspeed-very helpful and friendly, good
contact-recommended
, Celis headlights (GSF), tints (Tintwerx), LED rears(Ebay), and the old school GTI emblem (Ebay) Milltek Exhaust (Awesome)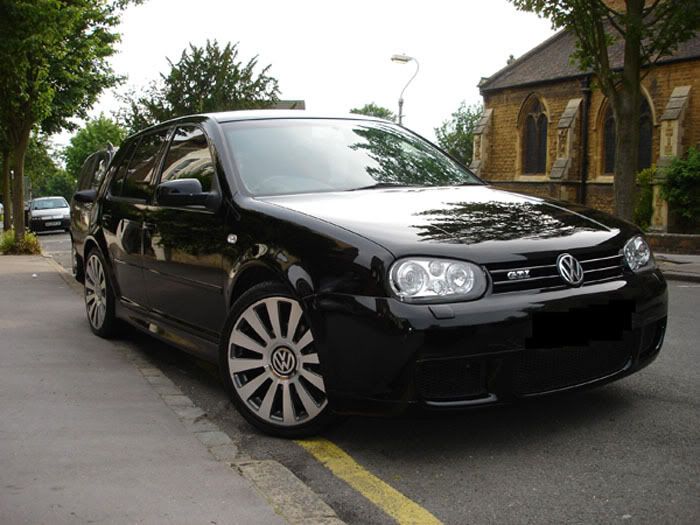 around this time, the nouvolari's had just come out and it was a toss up between the a8's and these ones. my inner brat decided to come out and i couldn't see why i couldn't just have
both
on different sides of the car. :s you cant see both sides at the same time anyway..right?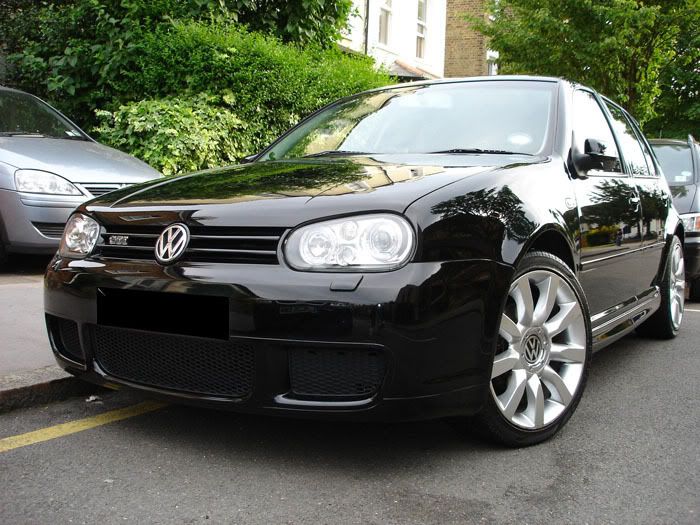 in order to learn from mistakes, you have to make
them
so it was a while before the novelty of having different rims wore off, and being quite a new driver, i seemed to scratch them into oblivion, which made it embarrasing to pull up in. so it was time for a change..
" />
i love these rims..the first time i ever saw them was on the cover of top gear magazine, on a red MKV. i didnt think much of the new shape, but those
rims..
they
looked like they'd chop your fingers off if you got too close! it was between these and some BK299 black rims with the silver lip(inspired by seeing Cage's ASA's when he had them a while back), but i thought that maybe black rims would be too much on a black car. i like a contrast between the car and the wheels. as for the lights, i got these about a year ago, and i still think they are unbeatable looks-wise when theyre on at night. however, in the day, i've grown to feel they stand out too much and i wanted somethin more subtle. im still considering getting the black versions..i think shiuming had them on a post a while back.
close up of new
rims
and some not-so-new
brakes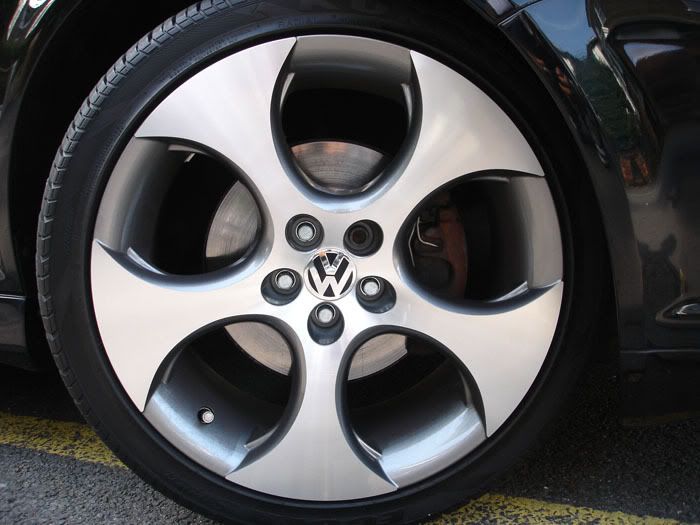 phone photo at a filler. sometimes the light catches the car to make it look particularly stunning (to me anyways!), and i feel the need to capture it. although, its always to find out that pictures hardly do it justice. never mind phone ones. which makes me wonder what my favourite cars on the forum >actually< look like! maybe car meets are the way
forward..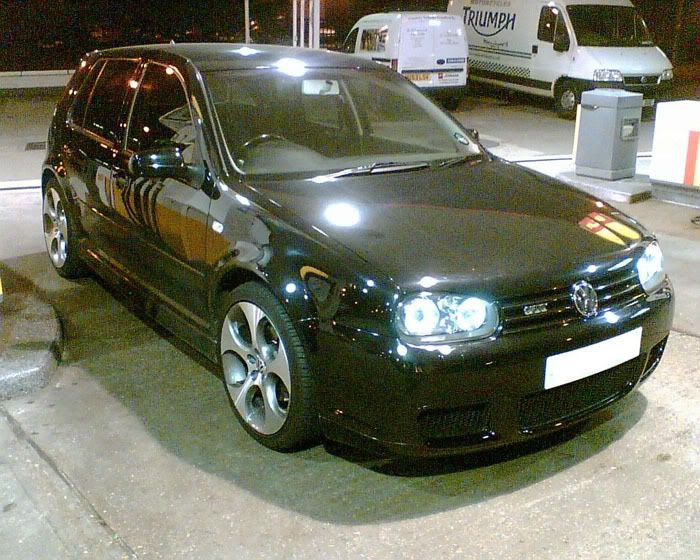 after a dealing with golfturbo and some
hammerite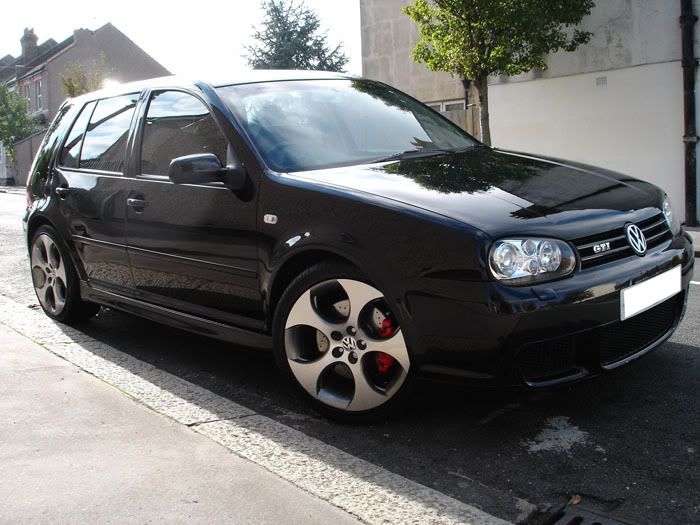 side profile with the old gti lights back in: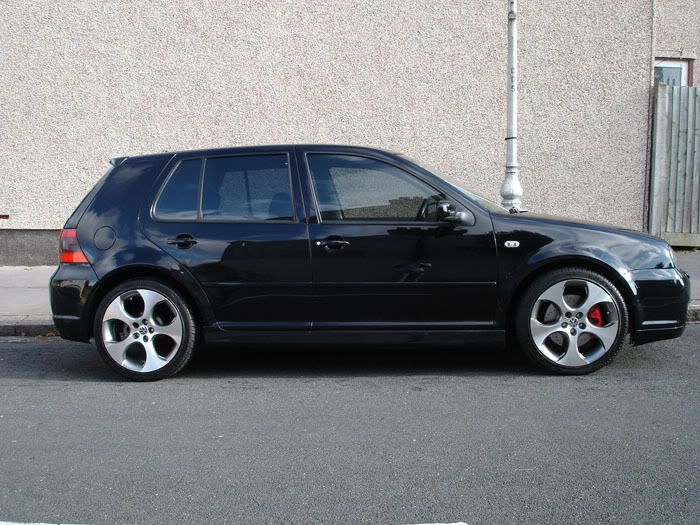 another view: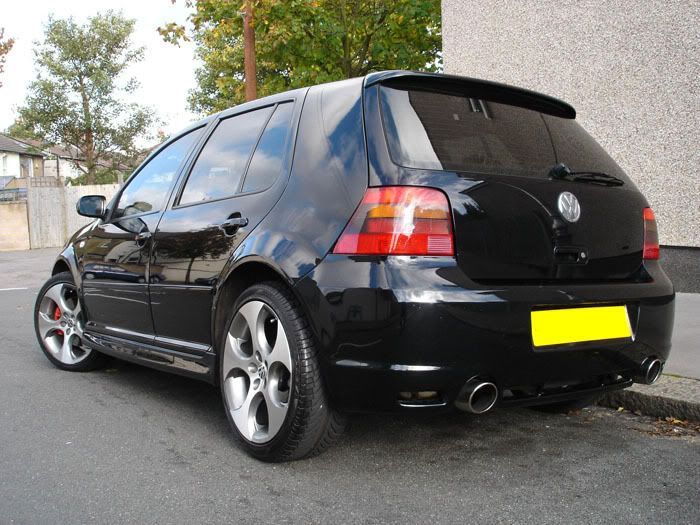 close-up. i got some SL McGards (or is it SU? the higher security ones anyway), cos im not keeping these babies scratch free so they get a good price on the black market, if you know what i mean. as you can see, i kept the dirty VW locking nut on there as well. apparently they're pretty useless, but i figured it'd be more of a problem than a normal nut so i left them on. i went for the zimmermans because of the look, and i painted the calipers so they wont end up like the last ones..and also so they look
cool
my friend said it looked like i'd "ran over an animal and it got caught in the wheel". but she doesnt know anything about cars, so i'll lean towards adding a bit more weight to your guy's
opinions
http://i143.photobucket.com/albums/r159/dele_photos/zim.jpg
with most of what i wanted on the exterior done, i went for the thing that'd get most value for money in terms of improving the time spent in the car. which meant replacing cloth with
leather
just seeing it when i open the door, or through the windscreen, makes it worth
it
the smell of it while you're in the car is another benefit..the car somehow smells..more executive
the feel of it is great as well. i went for the grain just below nappa, because i dint think leather looks good extremely smooth. its like its plastic or something. i like to see and feel the grain. obviously, you're not going to feel the leather on the seats when you're driving, (unless you drive starkers-which the re-trim doesnt do much to discourage), so i made up for this by spending the better part of the day just sitting in the car when i got the seats back and groping the bolsters
etc
this is the first time i've had leather seats (probably determined by the fact that this is my first
car
, so excuse my excitement-im not over the
novelty
http://i143.photobucket.com/albums/r159/dele_photos/inbak.jpg
these are the front seats. if you noticed, i wasnt lucky enough to get Recaros as standard so i had those sport seats which weren't really up to par..Luckily, the man in charge of the re-trim was Michael from MJ interiors, and he managed to source me two front Recaros, which i jumped at and saved some money re-trimming them now, instead of the original seats that i was going to have done and getting the recaros at a later date. the side bolstering is amazing in comparison and they look of the recessed headrests is class. although i'll have to admit one of the main attractions is that name stitched in the
middle..
http://i143.photobucket.com/albums/r159/dele_photos/infrnt.jpg
Mj's reputation is big enough for me not to have to say how professional the work is, but from a customer view, i can say that he was friendly, kept good communication while the work was ongoing, and more importantly, didnt mind spending (a lot of) time in the beginning discussing the details of what you want done, as he obviously understood that its important to get things 'just right'. Recommended.
Raring to
go..
http://i143.photobucket.com/albums/r159/dele_photos/brick.jpg
Hide and seek-corsa style
and yes, the driveway's raised-its not that high off the ground!
http://i143.photobucket.com/albums/r159/dele_photos/corsa.jpg
/>
i've been reading the forum for ages, glad to have posted (finally!)
dele