Discussion Starter
·
#1
·
List of current mods
Interior:
Full black, heated (old style) black leather with retro fitted loom
Illuminated Bora vents
Bora sport clocks
Retrimed OEM steeing wheel in perforated leather and red sticking (1" thicker than standard)
Black Passat interior mirror
Retro fitted cruise control
Boot interior trim sprayed in enamel satin black
Exterior:
Satin black sprayed grille and badge
Satin black sprayed rear badge, all others removed
Gloss black vinyl roof (DIY)
Bora Aero front wipers
De-wipered rear
MK5 GTI aerial
Textured black B-pillars
Smoked black side repeaters
JOM Bonnet bra
Textured black fuel flap
Front wind deflectors (very underated mod)
Chassis:
Front lowered on Eibach coilovers with 200lb rated springs
Rear lowered on Jamex coilover and spring kit
Fronk FK ARB 23mm with Rover 200 drop links
Rear Eibach ARB 25mm (bolt on style without drop links)
TT rear axle bushes
17x9.5 unknown brand alloys ET15 (aprox) 215/45 tyres
17x8.0 unknown brand alloys ET20 (aprox) 205/45 tyres
Engine:
Standard TDI 150PD ARL engine with R-teck remap, running 196bhp / 318ft/lbs (was running 156bhp standard)
Home made gear box mounted short shifter link (from spare original) and cut down stick inside
"Panzer" sump guard, (doubles as lower strut brace effectively)
Powerflex "Red" diesel uprated dog bone mount bushes
Ice:
Blaupunkt MP3 / Bluetooth single DIN head unit
Vibe 12 Active Sub / amp combo
Front Fli Underground component speakers
To do list:
Joey mod Depo angel eye headlights in satin black (lights already in my possion in chrome)
312mm Front brakes
Dye roof linning and spray all trim in black
All rub strips on bumpers and doors to be satin black (in progess)
Milltek De-cat + EGR delete pipe
TT pedals
Anni side skirts in satin black
Thought it was finaly time to show my car and its progess as i've had it a year now.
here it is / was, 2003 99k 150PD £3700 bought Jan 2010 in bog standard form, bar slight rust to arch and tow bar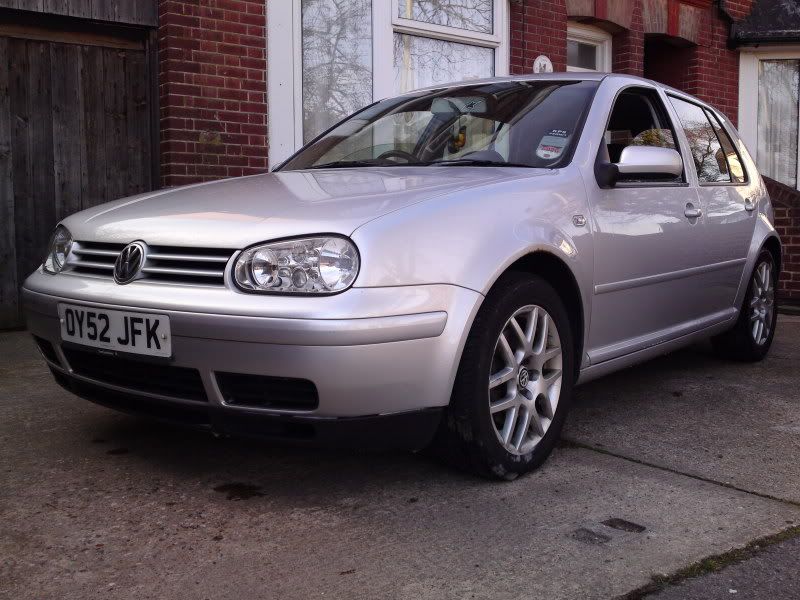 Ive had a few dubs now, including 2 Polo G40's, a Passat B5 TDI and a Mk4 V5 so this wasn going to stay standard long but i do need to drive most days and i am tight as a ducks backside so everything has been done very cheap!
i managed to source a brand new pair of front Eibach Pro-streets for just £50! paired with some old shocks / springs for the rear from my V5.
I also had been hand refurbing some LM's in the mean time which were mounted the same day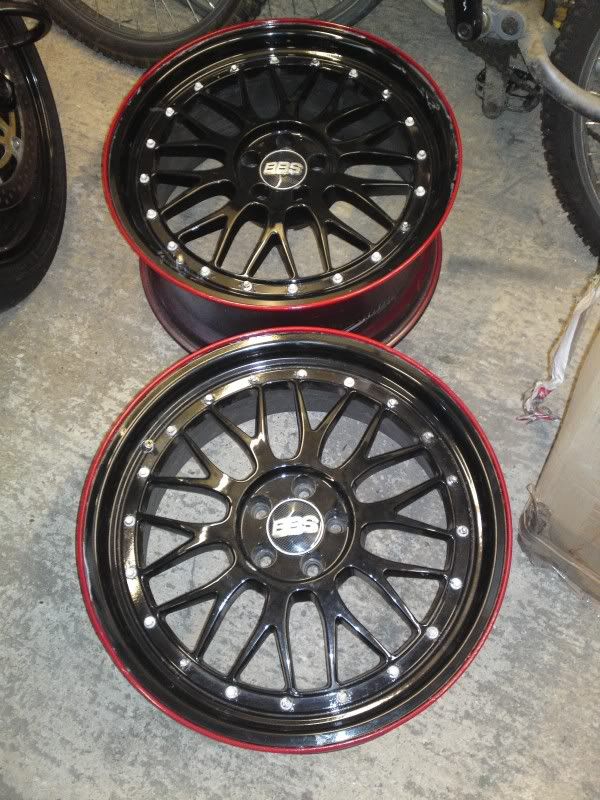 and here is how she sat, bit high at the back but ok for now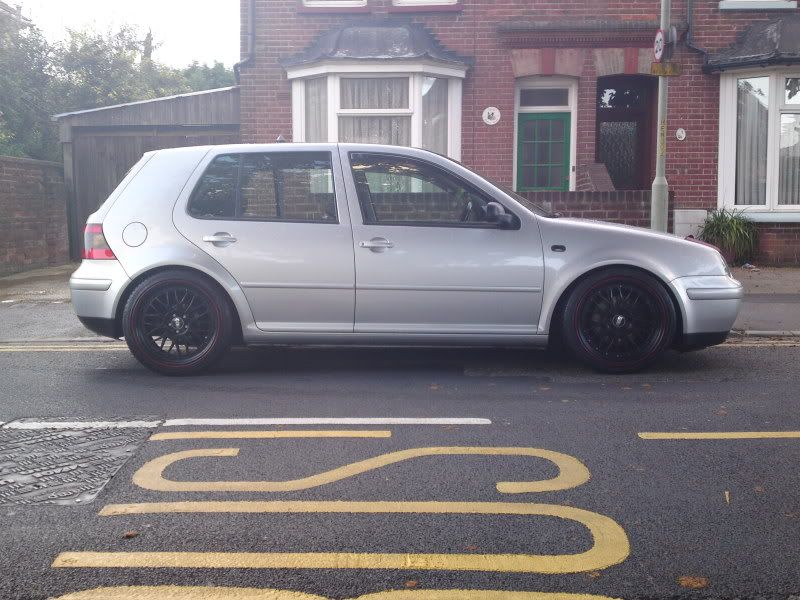 Since this the car had been treated to 15mm spacers out back £30, home made black badges and grille £5, red bra £30, MK5 aerial £8 and a black vinyl roof £30 (which for a first time atempt i was very pleased with) and some Lupo mirrors £10