Discussion Starter
·
#1
·
Having been asked the question of how i did my all red's countless times,i thought a simple diy guide was in order.
Parts list
Std 1.4/1.6 rear lights
Sand paper various grades 100-1500
Tint spray
(red) or colour of your choice
Stanley blades
Masking tape
First step is to decide if you want to keep the oem lettering and casting marks or not,i choose to get rid of them all.
To do this i had to use stanley blades to cut all the lettering off,the process is a right pita if i'm honest but once i'd started i had to carry on.
Once your happy that the letting is off it's time to get sanding,i started off with wet 100 grit to get rid of any remaining letters etc....at this point i noticed the lights have little lines between the colours and i wanted to get rid of them so kept sanding till smooth.Working through the grades to get the required finish,in total i'd say about 1 hour spent on each light.Keep sanding until your happy that all the scratch's from the rough grades have gone.
Mask off the top plastic sections of the lights so not to get any red spray on the black plastics.
Now it's time to paint,the tinting spray i used was basically a tinted lacquer so they wouldn't require a clear coat afterwards[Y]
Following the instructions on the can i gave one light a coat.
This was my first attempt,i wasn't happy with the scratch's that could be seen so stripped it all off withthinners and started again.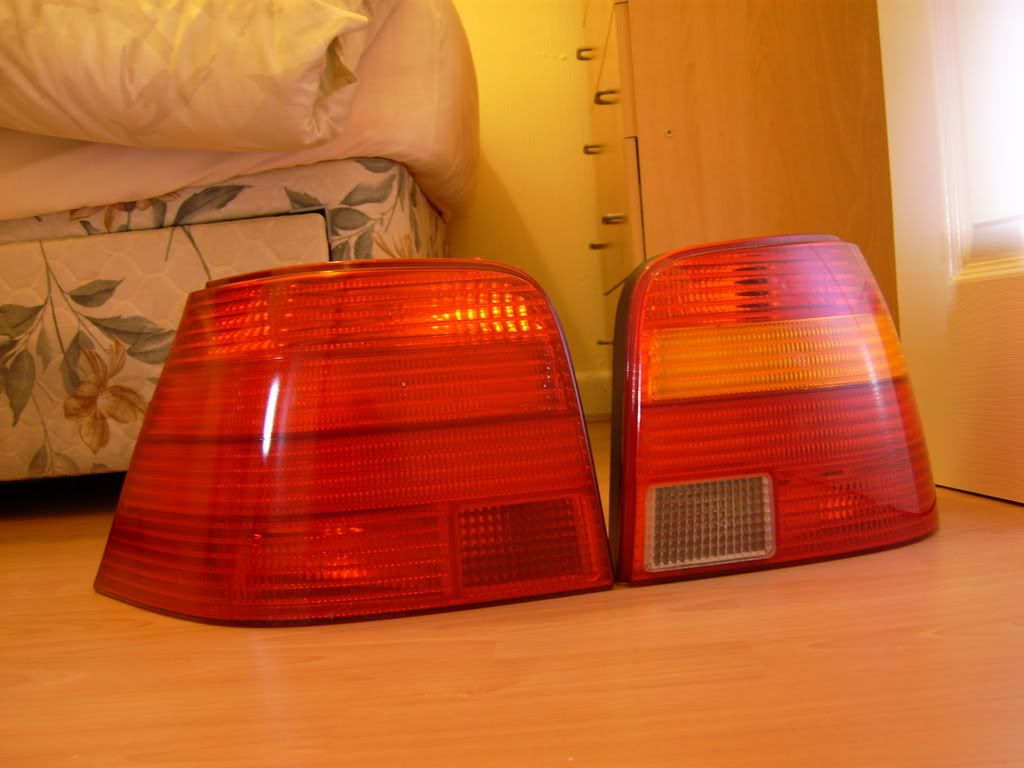 After getting the lights in a better condition i then sprayed them again,giving them 3 good coats leaving to dry for 15-20 mins between coats.Once dry give them a good polish and a few layers of wax.Fit and enjoy......
Here are the end results,not bad for cheap easy mod.